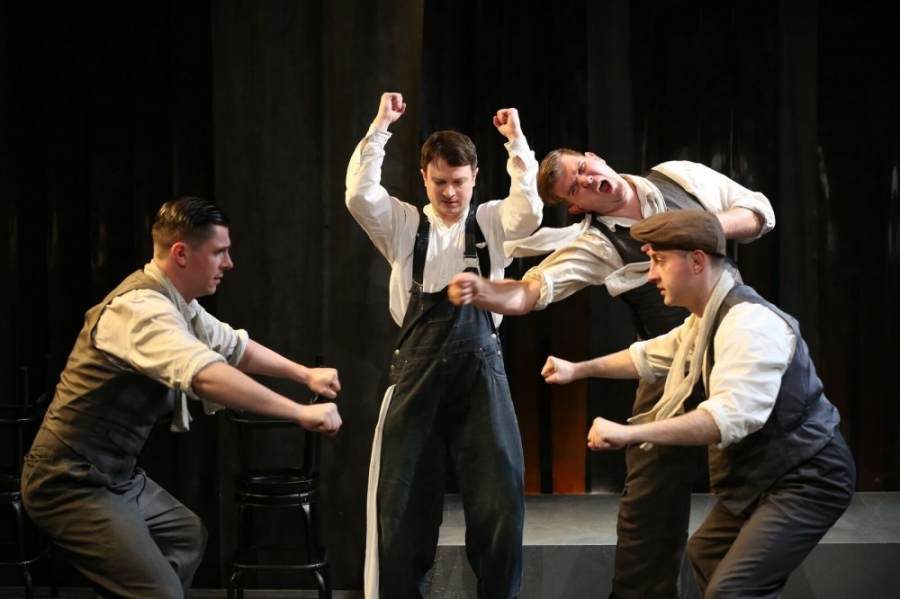 Operation Crucible by Kieran Knowles (who is also a cast member, playing the affable Tommy) is part of the Brits Off Broadway series at 59E59 Theaters.  Alternating between harrowing and charming, the play tells the story of a quartet of lads from Sheffield, England who work in the steel mills and their experience with the war time tragedy of the Sheffield Blitz during World War II.  On December 12, 1940 Germany relentlessly bombed this industrial city in an effort to destroy the factories where parts for ships, planes, tanks and bombs were being made.  Bombs also fell on residential areas including the posh Marples Hotel in Fitzalan Square, where one bomb decimated the seven-story building to piles of rubble, killing 70 people.  In Operation Crucible, these four young men become trapped in the basement of the hotel, which was also used as a bomb shelter.
Directed with imagination and taut pacing by Bryony Shanahan, the performances are sublime.  Salvatore D'Aquila (Bob), Mr. Knowles, Christopher McCurry (Phil) and James Wallwork (Arthur) create finely etched characters both emotionally and physically with only a bare stage, four stools and a few costume pieces. Sophia Simensky's excellent set and costume designs are commendable.  Lighting and sound play a crucial role in Operation Crucible and lighting designer Seth Rook Williams and sound designer Daniel Foxsmith use their respective artistry to surround us with the horrors of war.
This is a gifted ensemble cast. The actors' choreographed sounds and movements coupled with Ms. Shanahan's skillful staging make a steel mill appear, meld into a dance floor, a rousing football game (aka as soccer here in the U.S.), a card game or each character's individual home, where the four actors become supporting characters: fathers, mothers, children.  We see the camaraderie and connection of these four young men, their struggles, desires and pride during wartime England.  And their responses to life in the face of death.
Mr. Knowles writing is rich and his characters deeply empathetic.  With poetic, earthy language, he manages to tell with clarity four individual stories in 80 minutes, weaving in and out of time periods and framing the play with vivid descriptions of that historic night bombs fell on Sheffield.  Using dialogue and direct address narrative, Mr. Knowles has an innate sense of tempo and the powerful impact of a word's sound or repetition; some of the rapid fire exchanges of narrative are musically percussive, adding to the texture of the story.  And Operation Crucible has many touches of humor, even in the darkest hour.  Bob's dog monologue is brilliant, as is Mr. D'Aquilla!
Although recounting events from almost 80 years ago, Operation Crucible is extraordinarily relevant. I left thinking of the parallels to today's world and its wars.