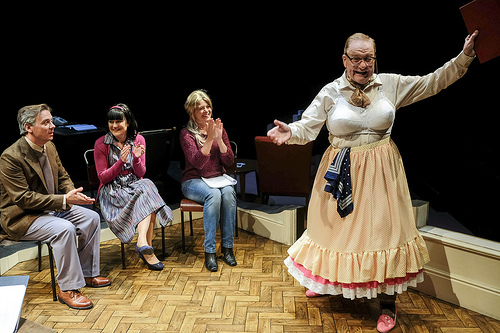 The prolific English playwright and director Alan Ayckbourn is back at 59E59 Theaters. His funny and poignant new comedy A Brief History of Women is part of Brits Off Broadway 2018, with a cast of chameleonic character actors sporting an extravagant amount of wig changes throughout the play. A Brief History of Women spans 60 years, each of the four parts of the play being 20 years apart. The action revolves around three constants: a large manor house, an unremarkable local lad named Anthony Spates (played remarkably by Antony Eden) and love. In all four parts, Mr. Spates, surrounded by other men behaving badly, listens to, comforts or stands up for a woman, resulting in romances, some ending better than others. Part one begins in 1925. Seventeen-year-old Spates has been hired as a temporary servant to a manor nearing the end of its aristocratic heyday under the auspices of Lord Edward Kirkbridge, a brutish misogynist for whom the word socialist can bring on apoplexy. Spates receives his very first kiss from Lady Caroline Kirkbridge, after coming to her rescue during a violent confrontation with her husband in what is the darkest of the four parts of A Brief History of Women. Part two is set in 1945, the manor now transformed into a girl's school; Mr. Spates is a teacher. Part three, the building becomes an Arts Centre circa 1965 run by arts administrator Mr. Spates and home to an amateur theatrical troupe. Finally, in 1985 it is the Kirkbridge Manor Hotel and Spates is the former manager. These different settings bring with them new characters and sticky situations and a moving final resolution. Throughout Mr. Ayckbourn does what he does so brilliantly: constantly changing the lens the audience looks through, moment to moment mingling humor and pathos, black comedy and tenderness.
Directing with unabashed theatricality, Mr. Ayckbourn moves the actors through Kevin Jenkins' without-walls set, carefully choreographing the sound of doors opening and closing as characters move in and out of rooms. Even the set changes are choreographed, earning applause as a large desk is transformed into a hotel bed. I only wish the 59E59 Theater A stage were a bit bigger as some downstage scenes at times seemed cramped. Composer Simon Slater's music evokes each era beautifully.
The hardworking actors are to be commended for creating so many distinct characters ranging from subtle to broad. Old school stage veteran Russell Dixon is grandly committed to each of his roles. Whether spluttering as a dithering headmaster or romping about in petticoats, a brassiere and pink pumps singing a naughty ditty as the Christmas pantomime's dame, Mr. Dixon is an over the top delight. Laurence Pears, a versatile performer, uses his tall stature to great effect, especially as an enthusiastic physical education teacher with a penchant for vigorously singing slightly off key. Morphing from an unhinged school teacher to a gum-chomping apathetic stage manager, Laura Matthews is also great fun to watch. Frances Marshall delivers a sunny can-do attitude as the ingenue actress playing Jack in the panto "Jack and the Beanstalk." I'm always reluctant to do audience participation, but she convinced me to shout out a big hello to Daisy the Cow. And speaking of Daisy, Louise Shuttleworth is luminous as shy Gillian, who plays the front end of Daisy the dancing cow. Teaching the cow dance to Spates, who becomes the stand in for the back end of the cow, Ms. Shuttleworth captivates our hearts. Mr. Eden, aging from 17 to 77 through the four parts of A Brief History of Women, conveys mountains of information with a furtive glance; he's a wonderfully vulnerable everyman, facing life's vicissitudes with dignity and compassion.
Mr. Ayckbourn is 79 and this is his 81st play. How will he choose to depict humanity's tenacious fragility in his 82nd?