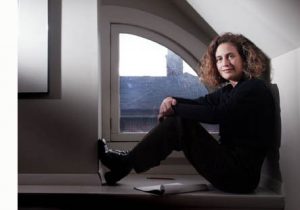 Playwright Catherine Filloux possesses a calming presence amidst the cacophony of a bus load of tourists eager to munch pastries and slurp cappuccinos at Amy's in midtown Manhattan. Fortunately we are able to snag the quietest table in the back for our interview. Filloux's responses are thoughtful and deep, her listening intent and I realize that in spite of the din, I am drawn into a cocoon of fascinating conversation with this award winning playwright as she speaks about her newest work, Kidnap Road, which is receiving a staged reading at the 2015 Planet Connections Theatre Festivity.
Catherine, as a playwright you have been writing about human rights and social justice for over twenty years. Selma '65 performed at La MaMa last fall took us back fifty years to the Selma voting march and the lives of white civil rights activist Viola Liuzzo and Tommy Rowe, an FBI informant working undercover with the Ku Klux Klan. You've written about honor killings in Northern Iraq and genocide in Cambodia. How do you choose the material that you write about? What is it about a person or event that sparks your imagination?
It's based on a burning need or emotion about a subject. I'm attracted to stories about human rights, women's rights, gender rights, social issues and stories about outsiders, perhaps because I am an outsider. My mother is French Algerian, my father French. I lived in France and Southern California. I am also interested in collaborations with other theater artists. Kimber Riddle, an actress who was in my play Luz, actually brought me the subject matter for Kidnap Road, which is an imagined theatrical work. I'm not interested in biography. Kidnap Road explores survival, memory and what it means to be a woman leader in a masculine world.
In Kidnap Road you have chosen a heroic woman as your subject: Ingrid Betancourt, a Colombian politician and anti-corruption activist who was kidnapped by the Revolutionary Armed Forces of Colombia (FARC) in 2002. But she's also a woman who's had some strong criticism leveled at her. How did you approach this?
The play is partly based on the events of Ingrid Betancourt's six and one half years being held prisoner by FARC rebels in the jungles of the Amazon. The piece dramatizes the complex aspects and meaning of being held hostage. But as I said it is not a biography, it's not linear. In exploring memory, time is fluid and is part of her character. Kidnap Road is a poetic drama about a woman's political choice, the trauma of survival and what memory will come to hold. Yes, Ingrid Betancourt is flawed and polarizing and incredibly brave, facing what she did and surviving. As a woman politician, she went up against the president of Colombia. She boldly said, "You are corrupt." She was from privilege but wanted to help the poor, but she didn't live a poor lifestyle. And she was a powerful woman in a masculine culture. Also, I feel I have a connection with her. She's a French citizen. She studied philosophy in France; I got my French baccalaureate in philosophy.
Kidnap Road started out as a one-woman show, but as the director Stan Cahill and actress Kimber Riddle began to work, I got a phone call from them in the rehearsal room saying, "We need another character." So I gave portions of the script to a male character. We are so fortunate to have Steve Guevara playing all the male roles; hostages, Ingrid's father, the FARC commander. He shifts from one character to the next and it's like a kaleidoscope. He changes and then she [the character of Ingrid] changes.
Why Planet Connections for this staged reading? Have you worked with them before?
No, this is the first time. But I really like what they stand for.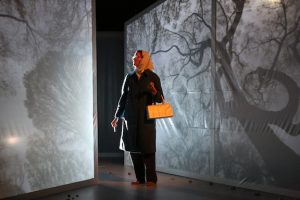 I can understand that! They are a socially-conscious arts festival and the works that are produced shed light on the causes that matter, inspiring audiences to be aware and perhaps take action for social change. Plus each production and reading benefits a charity or organization, correct?
Yes, Kidnap Road will benefit the Girl Scouts of NYC. Interestingly, when Selma '65 was running at La MaMa last fall, Glory Kadigan, Producing Artistic Director of Planet Connections, came up to me after the show and said, "Are you the playwright?" I said yes, and she handed me her card saying, "I'd like you to headline our staged reading series for the 2015 Planet Connections Festivity." So Kidnap Road is opening the reading series!
Do you ever have a desire to write a fluffy comedy?
Yes! I would love to. I'm kind of working on something like that now with John Daggett and composer Jimmy Roberts, who wrote the music for I Love You, You're Perfect, Now Change. It's a musical based on my play All Dressed Up and Nowhere to Go. A crazy, true story that my mother actually experienced about a group of Amish and group of crossdressers being stuck at a motel during a blizzard!
If you could go back in time to an event in history or talk to a historical figure from that event, who would it be and what would you talk about? And I know the list probably has at least 10 items on it.
Yes, it would be a long list, but the first thing that comes to mind is that I saw the Towers burn on 9/11. All transportation was shut down and I walked across the Manhattan Bridge to get home. And as I watched this tragedy, I thought to myself, "I wonder what Clinton will do." And then I stopped myself, "No, it's not Clinton, it's Bush in office now." What I saw happen that day was that the world was with us. We had an opportunity in the weeks to come to do something different. I would like to travel back in time and talk to George W. Bush and Dick Cheney about the decisions that were being made. I would like to say, "Please consider that everything changed today. Let's use this as an opportunity to take the right actions, new actions, different actions, to listen, because the world is with us."
And then we went to war, and then war with Iraq…heartbreaking. A little while after 9/11, I was in Morocco for a workshop of my play Beauty Inside, which was produced in Northern Iraq and now had been translated into Arabic. We got to talking about the events of 9/11 and they told me that in the days after the tragedy people gathered together including a Muslim cleric, a rabbi and a Catholic priest and "we all prayed for America". The world was so with us.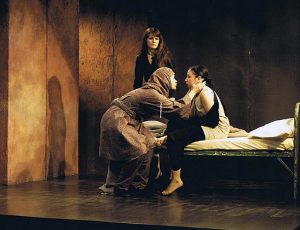 A few years later I was in Belfast, Northern Ireland as an artist in residence for a project about peace. There is a place in Belfast called Ardoyne Road and on one side of the road it is a Catholic neighborhood and on the other side it is Protestant. Working creatively with the kids from this neighborhood, having them write and talking to them about peace I realized, they know all the answers. If you can hear what they have to say, it is so life affirming.
What else is coming up for you?
I have another opera commission to write the libretto for Orlando with composer Olga Neuwirth. It's for the Wiener Staatsoper, Vienna State Opera and based on the novel by Virginia Woolf. And we are looking to take Kidnap Road to the Edinburgh Fringe in 2016, put the show into a venue that is intimate and immersive, allowing the audience to take the journey alongside the actors. The Fringe celebrates challenging material. Then we hope to find a theater that is committed to producing socially-conscious material for a run of the show.
See Kidnap Road, a staged reading of new play by Catherine Filloux, June 27, 2015 at 2pm at the Paradise Factory.  The reading is free and open to the public.