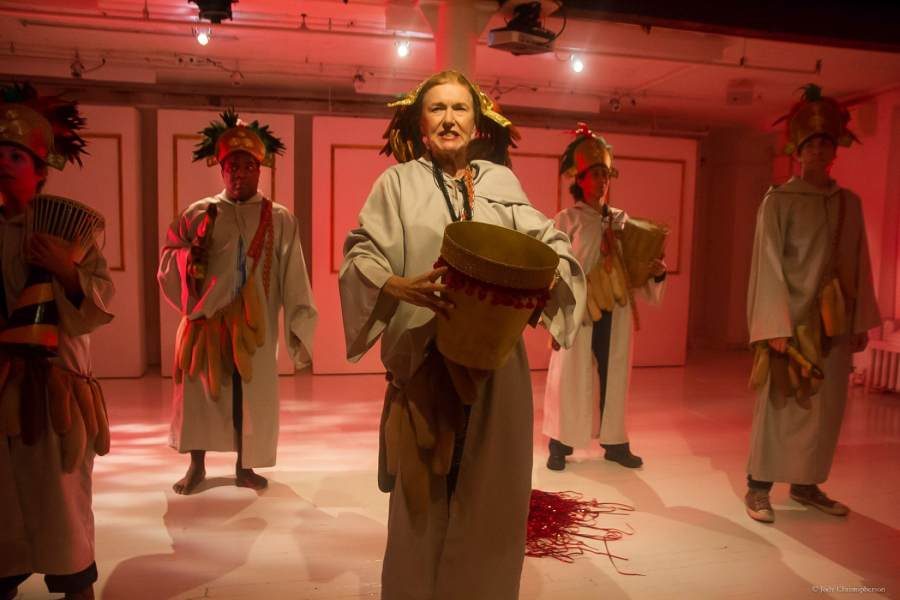 THE BOTTOM LINE:
Richard Pictures presents and TLab Shares hosts in association with Anne L. Bernstein, Daniel McCoy's new witty comedy Dick Pix. Gender norms are turned upside down in this creative and punchy satirical show that delivers nonstop laughs.
WHAT IT'S ABOUT:
Calvin is a photographer and self-proclaimed provocateur in desperate need of an idea for his next installation. Grace, his girlfriend and publicist, and Fin, his best friend and art dealer, are turning up the heat as the deadline approaches. Meanwhile, two eponymous Art Handlers begin to complicate the situation when they become the target of Grace's unwanted attention. Mrs. Marbleblatt, a widowed patron of the arts, further queers the equation when she takes a prurient interest in Calvin's work. Ambitions and visions collide in a satirical comedy about identity, harassment, and narcissism in the age of social media.
CAST & CREW:
June Ballinger (Mrs. Marbleblatt)...
June Ballinger plays Mrs. Marbleblatt with passion and did an excellent job engaging the audience starting with her striking first scene.
Bruce Jones (Fyn)...
Bruce Jones playing Fyn was poised and delivered a strong and comedic portrait of an art dealer.
Lynne Marie Rosenburg and Erinn Holmes (Art Handler 1,
Art Handler A)...
Lynne Maria Rosenburg along with Erinn Holmes portrayal of the art handlers gave way to the exploration into the meaning of gender and unwanted attention. Their combined portrayal was hilarious.
Kate Abbruzzese (Grace)...
Kate Abbruzzese was phenomenal in creating hilariously intense scenes with the use of her voice.
David Gelles (Calvin)...
David Gelles is a strong actor who plays the role of Calvin effortlessly.
THE CRITICAL EYE:
I felt that the use of language choice made by the playwright was in line with the current times exploration of gender norms. I was struck by use of the language and dialogue delivered by the different characters great vocal presence. I especially liked Calvin and Grace's telephone call exchanges: they provided exposition and defined the distinct characters perspective in an innovative and engaging manner.
THINGS THAT STOOD OUT:
I really enjoyed plot and the delivery by the characters was exceptional. The show was a smart, witty, and comedic gem! I would highly recommend seeing it - it does not disappoint!