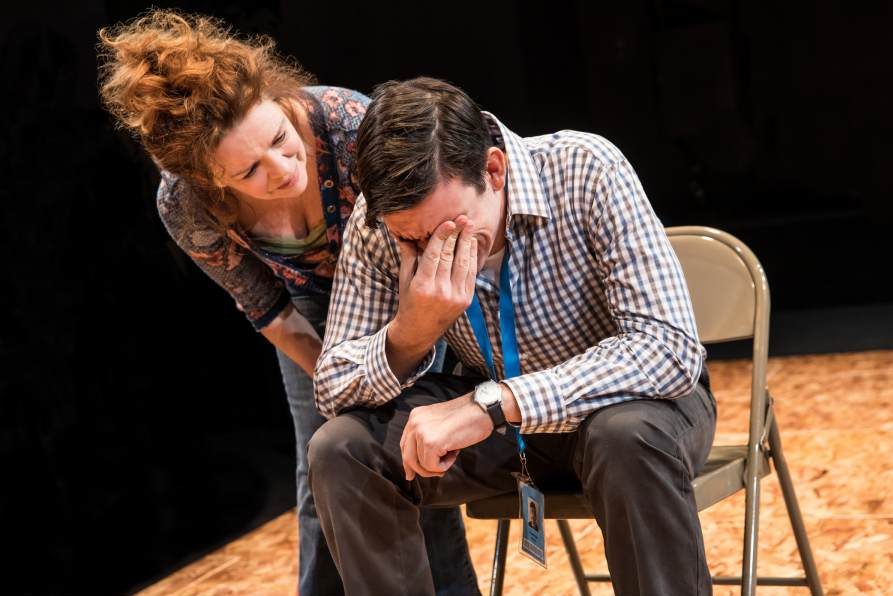 The complexity of navigating relationships -- and the delicate dance between independence and intimacy -- have always been challenging parts of the human condition, and our disjointed modern world only seems to intensify them. Fulfillment Center, a new play written by Abe Koogler and directed by Daniel Aukin at Manhattan Theatre Club, explores these challenges with a skillful balance of depth and humor, and uses endearingly-flawed characters to prove their difficulty. Through a mix of personalities whose lives intersect in a small New Mexico town (at times only by association), the play shows that our stories are much more connected than we realize, and that our choices influence others' lives just as much as our own.
The backdrop for most of the drama is a large, unnamed package shipping company -- a fast-paced, no-frills customer order "fulfillment center."  We first meet the manager-on-duty, Alex (Bobby Moreno), as he trains new recruit Suzan (Deirdre O'Connell), an older, single drifter who struggles to meet the job's physical demands. But we soon learn that Alex is plagued by his own health problems, triggered by a stressful relationship with his girlfriend Madeleine (Eboni Booth).
As Madeleine laments her decision to follow Alex to New Mexico and leave an exciting life in New York behind, she rebels by seeking the company of other men. Both she and Suzan attempt to cure their loneliness through John, another fulfillment center employee (Frederick Weller) - but as their separate relationships with him develop, each woman learns the danger of replacing a real bond with a superficial one.
Koogler's scenes melt effortlessly into each other with no clear breaks, despite the fact that not all of the characters directly interact. The fluidity of the piece (performed without intermission) underscores its theme of interconnectedness, and further demonstrates how second-degree social connections can impact our choices and happiness. The play lingers on our dissonant need for closeness in a world that values self-interest and self-realization – even its name is a clever play-on-words. As Alex struggles to meet the expectations of his company and his girlfriend, we see how modern life requires us to work longer and faster, to produce more and be more – but is fulfillment really ever attainable?
Moreno nails his portrayal of Alex, a people-pleaser whose exhaustive efforts to satisfy are foiled by his lack of inner-strength. Booth's bossy Madeleine is the perfect counter in their relationship, and Weller wows as John, a seemingly simple (but as we slowly learn, frighteningly complex) blue collar worker. But it's O'Connell's brash and lovably-blunt Suzan who really steals the show. O'Connell hits all of her serious and comedic notes with equal power, and wins us over with a motherly softness under the drifter's tough exterior.
Though the play doesn't neatly tie up every loose end it creates, we still walk away having thoroughly enjoyed the journey -- making Fulfillment Center a fulfilling experience.