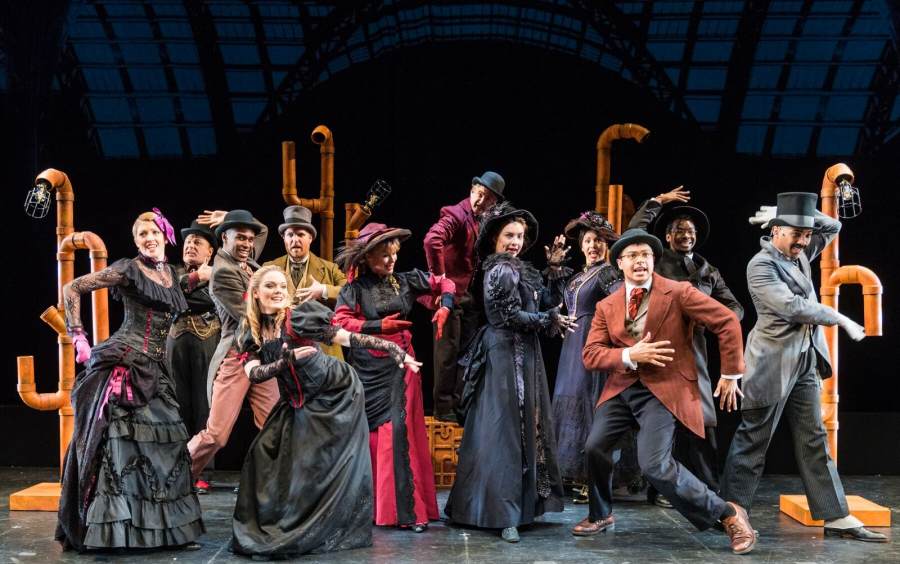 "There are no set endings," says Thomas, the hero of David Mauk's and Brenda Mandabach's musical The Time Machine (directed by Justin Baldridge at The Acorn Theatre at Theatre Row). Based on the novel by H. G. Wells (who coined the term "time machine," by the way), this NYMF production is delightfully inventive, whimsical, exciting, and touching. That doesn't mean it's perfect, but it does mean it's a lovely adaptation of Wells's novel - and an enjoyable experience for theatre-goers who like plays with a little sci-fi, a little steampunk, and a little romance.
Broadway-alum Michael Hunsaker is brilliant as the young inventor (Thomas) who constructs the world's first time machine but faces ridicule and danger when he tries to show it to the 1900 World's Fair committee. Bright, brave, and refreshingly pure as a character, Hunsaker's Thomas has an enthusiasm and child-like sense of wonder that renders him immediately endearing. Coupled with Hunsaker's strong, forte vocals, it's a recipe for narrative success.
As Wenissa, the girl from the future who calls out to Thomas across 9,000 years, Bligh Voth is beautiful and resilient. Her purity of spirit matches that of Hunsaker's character, and her piercing vocals are more than a match for his. Meanwhile, Randal Keith (another powerhouse vocalist) is sufficiently despicable as the villainous Professor Dash, who has held a grudge against Thomas since college and can't seem to get over it, even 9,000 years down the road.
Aside from Hunsaker himself, the strongest element of The Time Machine is its delightful inventiveness: recycling actors and props in ever-new ways and visually portraying time travel (which is no easy feat) with finesse and a high degree of imagination. The time machine of the title is portrayed by three actors, wearing bronze-colored jumpsuits enhanced with fixtures like metallic cogs, masks, and wings.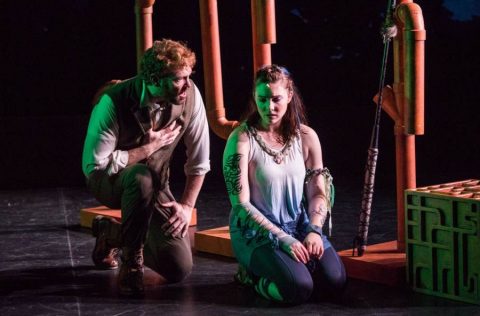 Besides eliminating the need for a bulky (and no doubt costly) piece of machinery, this approach renders the time machine more of an actual character - nearly if not quite sentient - in the play. It also allows for more movement and expression in those scenes (some of the best moments of the whole show) when Thomas is traveling through time in his invention.
That being said, I felt the play dragged on a bit in a few places. There's a heck of a lot of singing, which, given that this is a musical after all, wouldn't be a problem if several of the songs (especially the many between Thomas and Wenissa) didn't seem to cover ground that previous songs had already been over. I also could have used a little more explanation about how the earth ended up being so weird 9,000 years in the future.
Despite its flaws, I found my attention - and my heart - firmly recaptured in the final moments of the show, when Thomas declares "there are no set endings," and determines to face his enemies once and for all. After that, he's traveling through time again in his wondrous machine, and I got chills.