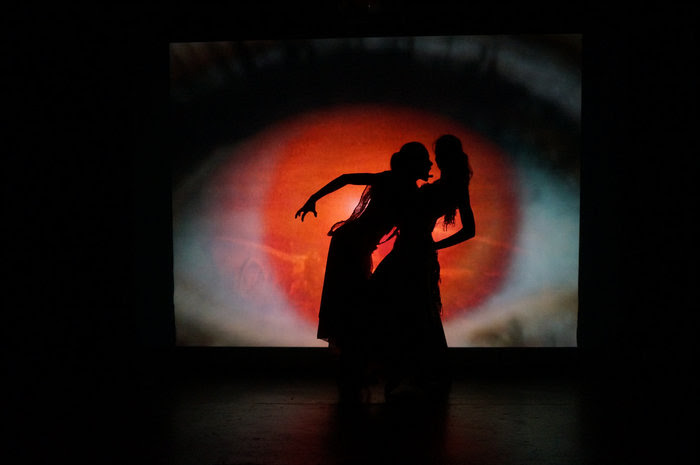 Wicked Clone or how to deal with the evil, the cinema musical at St. Luke's Theatre penned and performed by the Indiggo Twins, has a lot going for it. For one thing, the twins themselves (Mihaela and Gabriela Modorcea) are natural performers and a pleasure to watch. Their voices soar and they dance for much of this 90-minute musical with enviable expertise and seemingly indefatigable joy.
There's also the delightfully fantastic costumes designed by Mihaela: harking back to 15th century Romania/Transylvania with a pop twist. There's a series of high-energy and wonderfully catchy songs, which pull off an intriguing gypsy pop vibe. There's a potentially epic story: tracing two vampiric sisters from 15th century Transylvania to 21st century New York City. Mihaela is the good sister, rejecting the evil ways of her father (Vlad the Impaler); and Gabriela is the "wicked clone" bent on forcing her sister back to her vampiric roots.
And there's the bold new art form -- the cinema musical -- springing from the mind of Mihaela Modorcea. (If you're wondering, it basically means the performance blends on-screen visuals with live performance.) In fact, just about every element of this production was conceived, written, and performed by Mihaela and Gabriela. And that in itself is pretty impressive.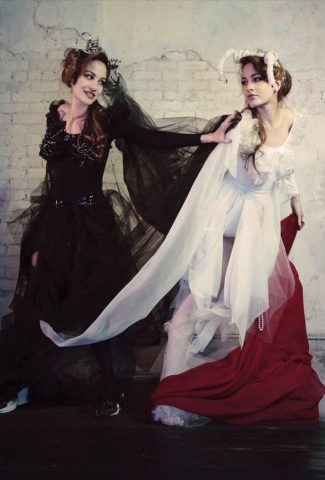 But sadly, it doesn't follow that the musical is an all-around success. Certainly there's a lot about it that's intriguing, and similarly a lot to enjoy. (I'm going to be singing those Indiggo Twins songs in my head for about a week, and I'm OK with that.) It plays a bit like an extended music video -- a very indie, gypsy-pop type music video. Music and choreography-wise, Wicked Clone is spot on. But the story element could use a little beefing up: an hour and a half of music videos starts to drag a bit without a compelling story behind it. And I think this story could very well be made compelling with a little work.
The proof is that there are some great moments in Wicked Clone. When Gabriela roller skates around the theatre, for instance, it feels wonderfully inventive and refreshing. (I picked up a Xanadu vibe.) And when Mihaela takes center-stage to sing a heartwarming invitation to her troupe of actor-friends (represented on the screen behind her), in a lovely black and white Bohemian-style dress, it's actually rather moving. I think more moments like these might help to bridge the disconnect between the performers and the audience.
There are elements of immersive theatre in the Indiggo Twins' staging, but they're too few and far between, in my opinion, to have the desired effect, which is to make the audience feel like they're a part of the story. Maybe more of these moments would prepare the audience for the penultimate song, during which the Twins clearly wanted us to join them on stage. Sadly, we just weren't ready for it -- even though that music was pretty dance-worthy.