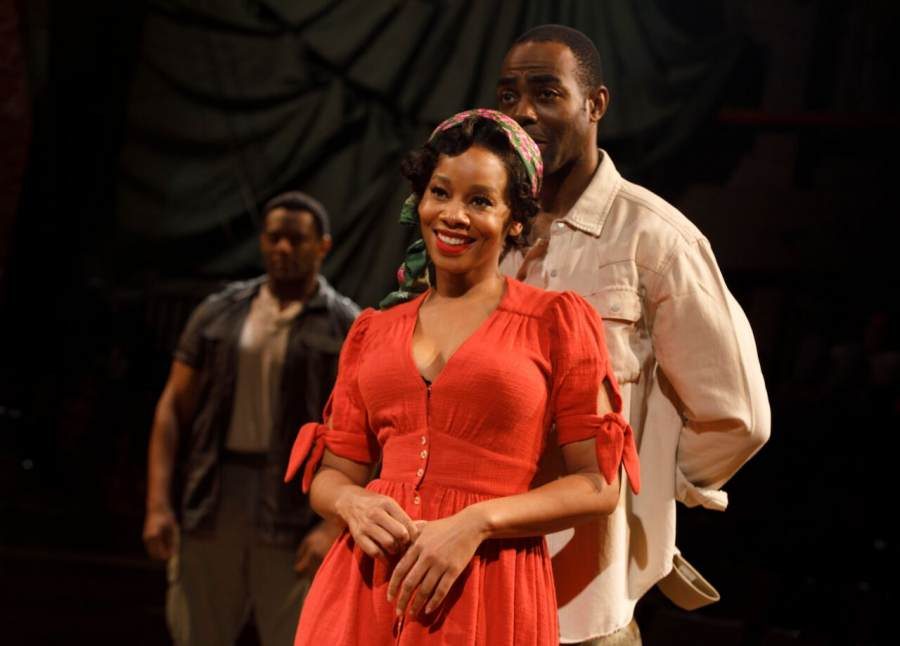 Carmen Jones, currently playing at Classic Stage Company, is pretty much what you'd expect from a show directed by Tony Award winner John Doyle, choreographed by Tony Award winner Bill T. Jones, and starring two-time Tony Award winner Anika Noni Rose -- in other words, near perfection.
Glorious and devastating in one package, it's a thrilling, artistically concise revival of Oscar Hammerstein's take on Georges Bizet's Carmen, featuring an all African-American cast who can sing like nobody's business (and incidentally, they can also dance).
Briefly, the story involves a young WWII soldier named Joe (Clifton Duncan) who falls under the influence of the seductive Carmen Jones (Anika Noni Rose). Her sway compels him to abandon both his childhood sweetheart Cindy Lou (a beautifully innocent Lindsay Roberts) and his army post, but Carmen's love is as free as her spirit, and when her passion for Joe grows cold, she tries to give him up in favor of the famous prize fighter Husky Miller (David Aron Damane, who towers in both height and stage presence). Joe, however, is unwilling to be given up: "Y'know you are tied to me, an y'know you'll never git away... where you go I'm goin' too, an' when you die I'm gonna die wid you!" Anyone who knows something about the violence of misdirected passion can predict what eventually becomes of the free-spirited Carmen Jones.
It's a story of the extremes to which love can fly, and the extent to which love, at a certain point, becomes more akin to hate, while infinitely more dangerous. However, as Hammerstein demonstrated by retaining Bizet's original music very much intact, where Carmen thrills is not so much in its plot line, but its melodic line. By extension, that's where Carmen Jones succeeds most. The characters' burning passions are compelling, no doubt; Carmen's independence is admirable, and Cindy Lou's innocence sympathetic -- but what ultimately carries the day is Bizet's irresistible music, Hammerstein's well-fitted lyrics, and John Doyle's cast of heart-stopping vocalists.
Leading that cast (and simultaneously giving a masterclass in onstage sensuality) is the passion-optimized pairing of Anika Noni Rose and Clifton Duncan. She's a lightning strike; he's bristling with electrical currents.
Those electrical charges spark more brightly with the help of Bill T. Jones's active, intimate choreography and Scott Pask's (another Tony winner, this show is bursting with them) equally active and intimate scenic design. Sets and props become active players in each scene, carried on and off by the actors and used to heighten the movement and motion in musical numbers.
Especially thrilling is the Scene III opener "Beat Out Dat Rhythm On a Drum," carried by Jones's heady choreography and Soara-Joye Ross's superhuman performance. In a more tender number, where Cindy Lou pleads with heaven for her beloved Joe, the electrical current may be more focused, but it's just as spine-tingling. In Joe's moments of sudden, extreme passion, that current reaches a desperate crescendo. Never does it take a backseat.
A whirlwind tour of desire, obsession, and the extremes of human nature, the exhilarating first major New York revival of Carmen Jones is a resounding success.