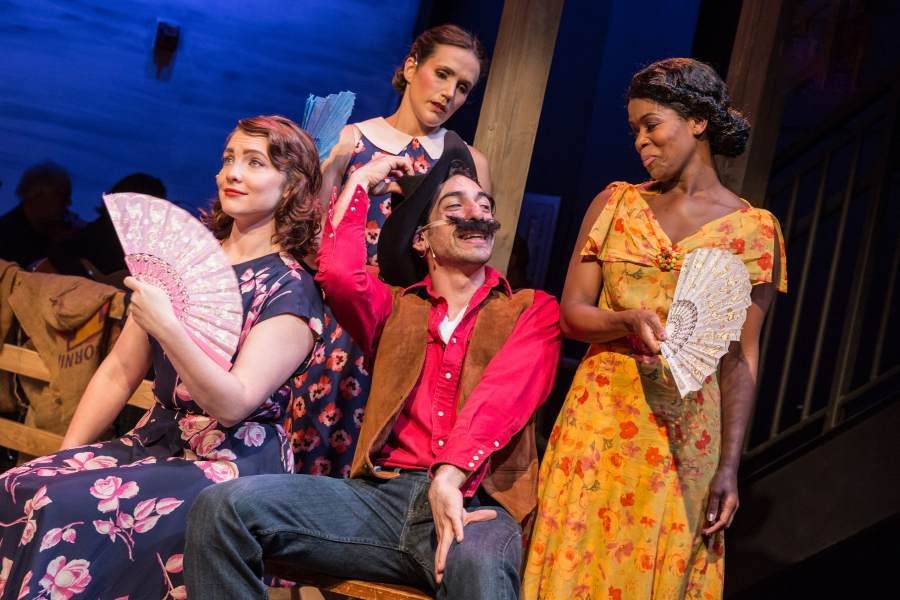 As West Side Story and The Lion King demonstrate, Shakespeare-inspired musicals can work wonderfully -- but only when done right. Happily, Boomerang Theatre Company's Loveless Texas, a new musical by Henry Aronson and Cailin Heffernan, gets it exactly right. Inspired by Shakespeare's romantic comedy Love's Labour's Lost, this musical set in Depression-era Texas and Louisiana uses Shakespeare as a springboard for its energizing, heartwarming story about family, love, and, of course, Texas.
Berowne Loveless Navarre and his two friends are bent on chasing fun (which usually means girls, gambling, and booze) from one end of the globe to the other. That is, until Berowne's older and more responsible brother calls the three young men home to his Texas ranch and offers them respectable jobs. The catch is that if they want to work for King Navarre, the three young men have to sign an agreement stating that for three years they won't gamble, drink, or engage in any interactions with the fairer sex. It seems impossible, but the three young men are desperate, so they sign King's agreement.
Unfortunately (or maybe fortunately) a household of young and very attractive women live in close proximity to King's ranch, and when a business deal brings the two households into even closer proximity, it seems like the contract Berowne and his friends have signed can't hold up for long. In fact, even King Navarre himself might not be able to hold his resolution when faced with the undeniable charm of his pretty young neighbor LaReine Beausoleil.
A lively, strong-voiced cast performs to a masterful script and set of knock-out songs penned in an eclectic mashup of bluegrass, Cajun, cowboy, and swing. As Berowne Navarre, Joe Joseph gives a heart-capturing performance as alternately fun-loving playboy, dedicated brother, and forlorn romantic. As his love-interest Rosaline Aucoin, Amanda Lea LaVergne is a perfect match: fiery, with a piercingly strong voice.
Also noteworthy is Darren Ritchie, who turns out a decidedly empathetic performance as King Navarre. His soliloquy song "Words/Git it Down" is, in my opinion, one of the highlights of the show. Another highlight -- simply because it's so much fun -- is Berowne's corny cowboy number "If Ladies Was Friendly (Like Horses)" in which he impersonates a chauvinistic, backwoods cowboy to the girls (who are by no means fooled). And the girls' lively number "I'll Chase Him Till He Catches Me" is another fun one. Nearly every song in this musical is an exciting tour de force of music, lyrics, and vocal performance. (And let's not forget the band.)
Perhaps its most remarkable achievement is that, without following religiously the plot of Love's Labour's Lost, Loveless Texas successfully pulls off a modernized American tale that reads like a perfect Shakespearean romance - if Shakespeare had written a romantic comedy set in 1930s Texas. Aronson and Heffernan have created a joyous, feel-good musical that gallops along like a Texas cowboy at a thrilling, exuberant pace. As Berowne sings in the opening number and again in the exhilarating finale, "This party will never end."