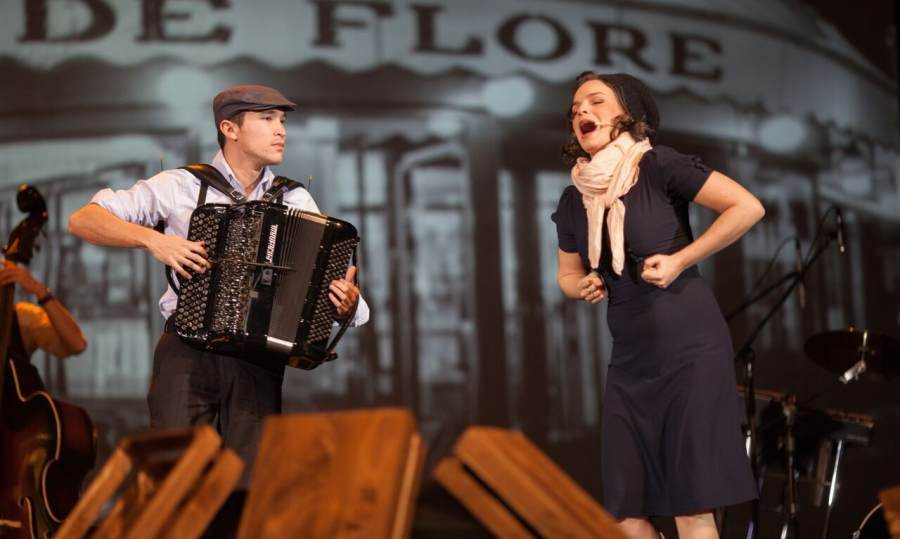 Edith Piaf may have risen to stardom in the late 1930s, but she started out as a Parisian street singer, and that's where Piaf! The Show (at FIAF's Florence Gould Hall) begins. Or, to be strictly accurate, it begins with "L'accordeoniste" -- the title of one of Piaf's most popular songs, but in this case referring to Guy Giuliano who plays accordion for the show.
At the end of Giuliano's instrumental solo, Piaf (Anne Carrere) enters in a coat, cap, and scarf, singing a cappella and holding out her hands for spare change. This is the girl who will eventually transform before our eyes into an international icon, but at the moment she isn't Edith Piaf the star -- she's a young woman brimming over with passion, charm, and tenacity. Over the course of the first few songs, she graduates to becoming a nightclub singer, and by the end of Act I (via a striking performance of "Les Flons Flons du Bal"), she's catapulted herself into the national spotlight.
Act II picks up with Piaf the star singing her heart out in a black dress and heels. This later Piaf is more self-assured, poised, and confident in her abilities as a performer. She knows she holds the world - and with it, her audience - in the palm of her hand. Piaf's truly iconic hits come in the second act -- songs like "La Vie en Rose," "Non, Je ne Regrette Rien," and "Padam... Padam." The last of these sees Carrere giving a forceful, all-out performance, and the wonder of it is that she has any voice left to sing the rest of the act. But of course, she does.
As director Gil Marsalla observes in the program note, this isn't so much a play as it is a French cabaret-style concert. Consequently, if you don't like being sung at in French for about an hour and a half, this may not be your glass of Chardonnay. However, once the show starts gaining momentum around the first half of Act I -- for me it was the song "Les Amants d'un Jour" performed so beautifully by Carrere and her onstage quartet of musicians -- it's a dynamic, exuberant ride to the finish. (And we do occasionally get to sing along: most notably for "La Vie en Rose," in French, no less!)
Piaf's rags to riches story is never plainly spelled out in the show. Instead, it's hinted at through Carrere's subtle shifts in emotion, mannerisms, and dress. There are also allusions in her interactions with the onstage musicians (Philippe Villa on piano, Guy Giuliano on accordion, Daniel Fabricant on double bass, and Laurent Sarrien on percussion), and projections on the screen behind Carrere. As a result, it probably helps to know a little about Piaf's life coming in, but all you really need to know to catch the drift is that she started her career as a street singer and ended as a celebrity. And anyway, this show isn't so much about Piaf's bio as it is about her music, and possibly the expression of her character through that music.
That being the case, Carrere is an excellent choice for Piaf's surrogate -- and she does seem to be a sort of surrogate, adopting Piaf's gestures and inflections in her powerhouse performance. From playfully sweet to almost tragically tenacious, Carrere carries the whole of Piaf's character. And like Piaf herself, she makes us fall in love with her.