Review: Klezmer Music and the Search for Human Connection Fuel 'Old Stock: A Refugee Love Story'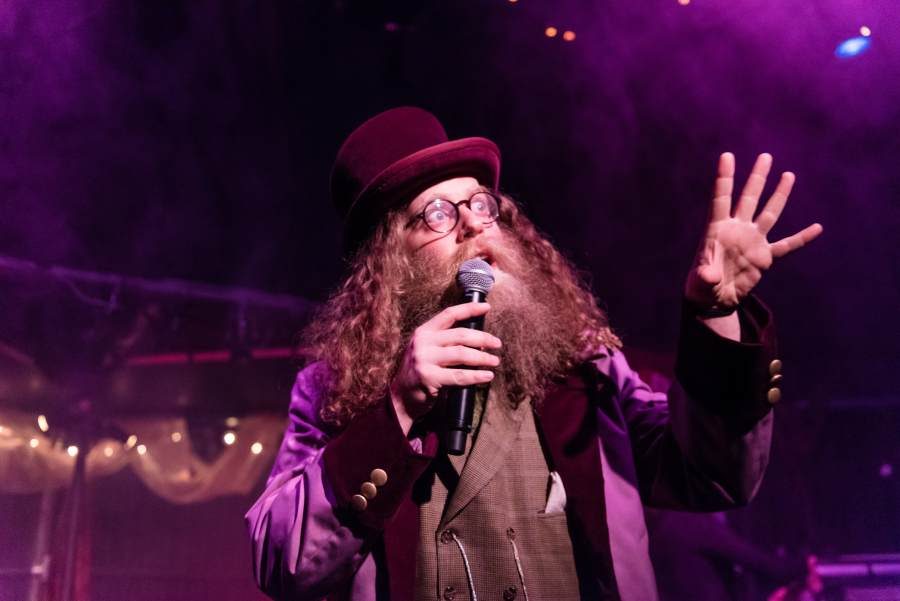 Old Stock: A Refugee Love Story (at 59E59 Theaters) is definitely a different kind of theatrical experience. Conceptually, it's beautiful: a cast and set that emerge from a giant shipping crate, a klezmer score, a story about Jewish refugees in search of human connection, a penetrating script sprinkled with tongue-in-cheek moments, and an entertaining narrator/front-man with a powerful voice.
In practice, it's less than perfect. While there are certainly things to love about this quirky show written by Hannah Moscovitch and directed by Christian Barry (with songs by Ben Caplan and Christian Barry), Old Stock doesn't quite add up as a whole.
Maybe it's the lack of time we get to spend with our main characters: Chaim and Chaya, two Jewish refugees from Romania who meet in Canada. Their story is compelling: a pogrom decimated Chaim's entire family, and Chaya lost her husband to typhus, then her baby to starvation. Both have suffered, both have lost, but both are determined to start anew. Chaim (Chris Weatherstone) is eager and charming. And Chaya (Mary Fay Coady) may be a little prickly, but we're rooting for her. The scenes they share are authentic and warm. And the revelation that this is a true story heightens the emotional impact.
In addition to turning out a heart-tugging performance as Chaim, Chris Weatherstone slays on the clarinet. And what Chaya lacks in charm, Mary Fay Coady supplies plenty of on the violin. There's an interesting moment where the two are holding their respective instruments but still in character (usually they slip out of character to join the ensemble), and I found myself wishing for a little more of that.
Old Stock hinges on Ben Caplan, playing "The Wanderer" who narrates the story. He's a compelling figure and a bold entertainer, and his powerhouse vocals are especially impressive when he sings a traditional-style Hebrew spiritual in the show's latter half. Then again, many of the songs seem heavily focused on Caplan, where perhaps a little more integration of Chaim and Chaya would have nicely rounded out the show.
When Caplan's natural talent as an entertainer coincides with a particularly clever bit of script, the raw spirit of this piece shines through, and we get a taste of its full potential. One such moment is the show's opening - during which Caplan feeds us a couple of lies about how he arrived at his current location, until we're properly ruffled and no longer prepared to take as fact anything he tells us. There's also a casual, playful tone to certain lines, like Caplan's introductory: "Okay so this Yiddishkeit music thing we're doing...." And when, during a dark patch in the story, Caplan turns to the audience and observes that right now we're wondering why we came to see this depressing show, it's a nice bit of fourth wall-cracking.
If this metaphorical crate hasn't quite reached its destination yet, maybe it's simply like its characters: flawed, but searching for - and occasionally finding - real human connection.