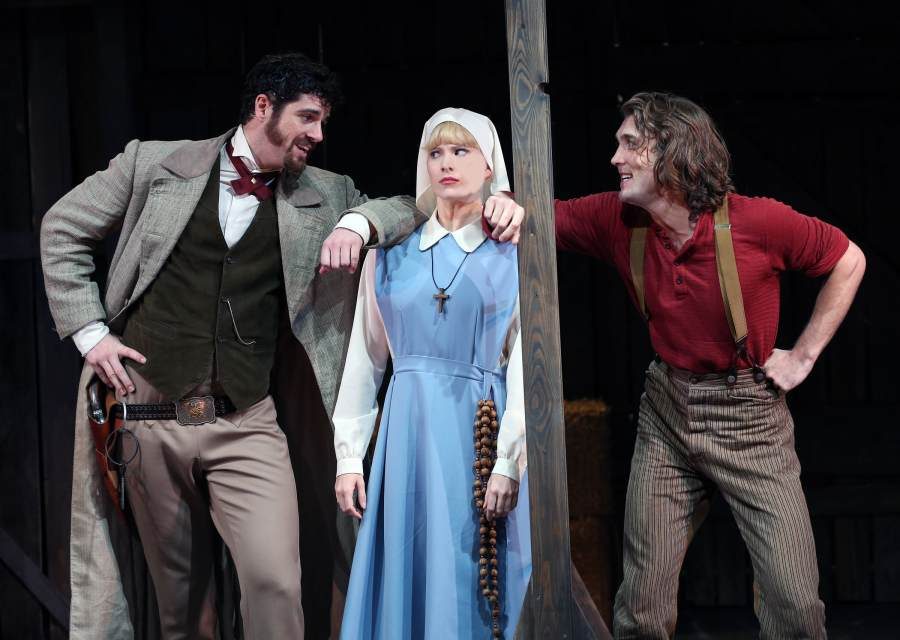 In this day and age, writing a musical in rhyming iambic pentameter is a little gutsy. To pull it off, you're going to need a good playwright and a darn good cast. Happily, The York Theatre Company has both of those, and as a result, their Shakespeare-inspired Western comedy Desperate Measures is a soaring success. The production has a talented playwright and lyricist in Peter Kellogg and an excellent composer in David Friedman. Of course, some credit is also due to director and choreographer Bill Castellino, whose magic touch is evident throughout the work.
A crime of passion has doomed Johnny Blood (Conor Ryan) to the gallows. That is, unless Sheriff Martin Green (Peter Saide) can find a way to save the poor young cowboy. The Sheriff enlists Johnny's estranged sister Susanna (Emma Degerstedt), who is on the verge of becoming a nun, but reluctantly agrees to beg the governor for her brother's life. However, when Governor von Richterhenkenpflichtgetruber (Nick Wyman, and let's applaud him for pronouncing that name seamlessly every time) lays eyes on the lovely Susanna, he conceives a dastardly plot: if Susanna will sleep with him for one night, he will spare her brother's life. The situation looks dire, but Sheriff Green is already hatching another plot, this time involving curvaceous saloon girl Bella Rose (Lauren Molina) -- who also happens to be the love of Johnny's life. What follows is an uproarious re-imagining of Shakespeare's Measure for Measure, complete with a cast of vivacious characters (I failed to mention the Nietzsche-besotted priest played to great comedic effect by Gary Marachek), and a host of incredibly memorable songs.
Despite a concentrated cast and fairly modest set, nothing in this production is underdone. From the charmingly bright costumes to the thrilling live orchestra and a set that includes a stained glass window featuring cacti -- every element of Desperate Measures seems to have been devised with both wit and love. This is also true of Desperate Measures' wonderful cast, all of whom turn out both cracking and endearing performances.
Leading the cast as Sheriff Green and Susanna, Saide and Degerstedt not only sing their hearts out, but sing their way into the hearts of the audience. It helps that their onstage chemistry is perfectly on point, and that Kellogg and Friedman have given them some terrific songs. But a highlight of the show is Johnny Blood's wistful number "Good to Be Alive," which Conor Ryan sings beautifully. Of course, I'd be remiss if I didn't also point out that Nick Wyman's Governor is absolutely hilarious and scores some of the biggest laughs in the show (and rightfully so). He seems to have an inborn knack for comedy.
As one of my fellow audience members pointed out during the after-show talk-back, a musical with a script this lovely AND songs that could stand alone is a relatively rare phenomenon. When such a piece comes along, it's an occasion not to be missed.