Rachel Chavkin and NYTW Take On Caryl Churchill's 'Light Shining in Buckinghamshire'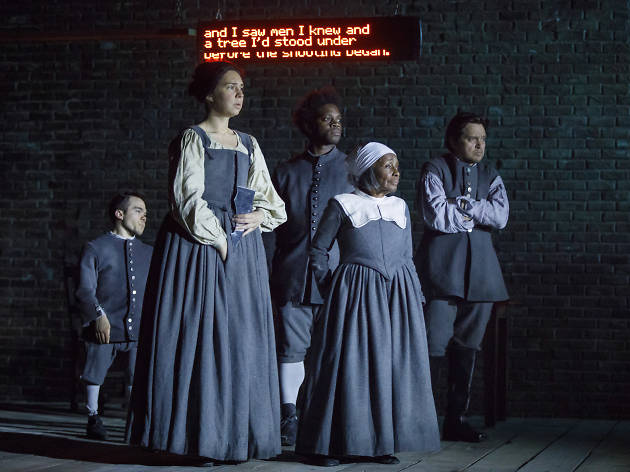 Caryl Churchill's Light Shining in Buckinghamshire is an incredibly dense play. And the production at New York Theatre Workshop, directed by the usually brilliant Rachel Chavkin, feels more like two and a half hours of drudgery than it does enjoyable entertainment. Then again, theatre's sole purpose isn't always to entertain. If you can glean it from the rapid fire debates, puzzling revelations, and disorienting snippets of story, Light Shining in Buckinghamshire does offer some deep thinking points. The question is whether it's worth toiling through two and a half hours of bewilderingly experimental theatre to find those points.
It's not all terrible. Cast member Evelyn Spahr is perhaps the best when it comes to reaching into Churchill's dense script and pulling out something that actually feels human and moving. As a result, her scenes are some of the most accessible - as when she plays a bereaved mother arguing that women are forever cursed because of Eve's transgression. She also plays a scene as a butcher telling wealthy customers they've already eaten their fair share of meat (when so many commoners can't afford it) and can't have any more for life. It's a scene that's actually genuinely delightful: a welcome surprise in this piece.
The diversity of the cast should also be commended, and if the play often feels inaccessible, that's probably not due to any incompetence on the part of the performers. They're all fine actors, perhaps this play is just incredibly difficult to act.
As you can imagine, Rachel Chavkin at the helm means some messing around with the timeline. While the first half of the play presents all the actors in period (1600s England) costumes, the second half sees them in modern dress with a few period touches. The costuming choices - along with the insertion of modern day props like microphones and a bottle of coke - make it easier for us to see the modern day parallels. England's mid-1600s rebellion, civil war, and parliamentary bickering are clearly meant to make us think of the political unrest and arguing so prevalent in our world today.
Perhaps the show's most intriguing element is its unsettling sense of apocalyptic degeneracy. The world seems to be on the brink of collapse and everyone expects it to end any day. The puzzling thing is that it doesn't. As Vinie Burrow's character muses, perhaps Christ came already and we missed it. But, she wonders, how could we have missed it?
It's not a difficult question to answer: in a play this experimental, dense, and dizzying, I feel quite sure I could have easily missed the second coming. But maybe that's the point.