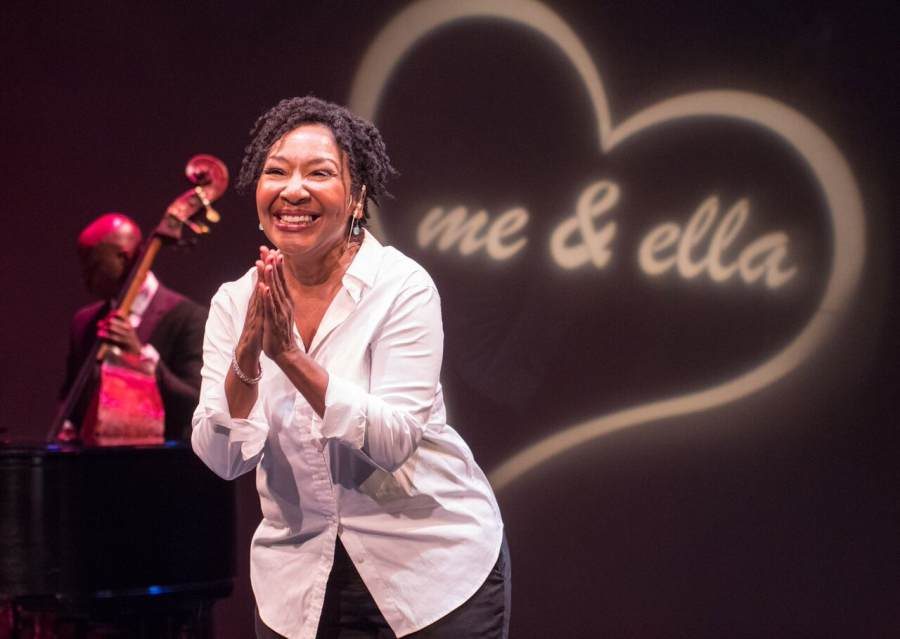 Fans of jazz and the First Lady of Song should start making their way to the York Theatre, where Me & Ella provides the perfect blast of nostalgia to revive your love for Ella Fitzgerald. Written and performed by Andrea Frierson, Me & Ella captures the spirit of Fitzgerald's music through Frierson's deeply personal take on the singer's life.
Frierson weaves the story of Ella Fitzgerald's life into her own childhood. She grew up with opera singer parents, surrounded by classical music. Her appreciation for jazz, and the development of her love for Ella Fitzgerald, came from her grandmother's influence. Walking us through the important moments of her childhood, complete with adorable fan letters to Ella Fitzgerald herself, Frierson also provides an overview of Fitzgerald's life, starting with her troubled childhood and following her down the path to success and stardom.
To support Frierson's description of Fitzgerald's life and her own childhood, the back wall of the stage comes to life with photographs of Frierson as a child, her family, and, of course, Ella herself. This addition, admittedly simple, grounds Frierson's rich storytelling ability in the warmth and love she has for the other "characters" in her tale as her parents, grandparents, Ella Fitzgerald, and newspaper clippings make their respective appearances.
Of course, no show chronicling the life of Ella Fitzgerald would be complete without music, and Frierson punctuates her storytelling with songs from Fitzgerald's career that resonate with the moment she's narrating. Frierson's gorgeous voice and sparkling stage presence allow the show to shift seamlessly from song to story, creating an immersive experience that covers the breadth of her experiences and Ella Fitzgerald's life through artistry as well as experiences and emotions.
As part of the York Theatre's New2NY series, a development program that brings new musical theater pieces to its stage, Me & Ella is performed with script in hand and minimal staging. Despite this, Frierson's engaging performance and magnetic voice ensure that the audience won't even notice the script in her hand as she spins the minimalistic stage around her into a rich world of family, love, and music.