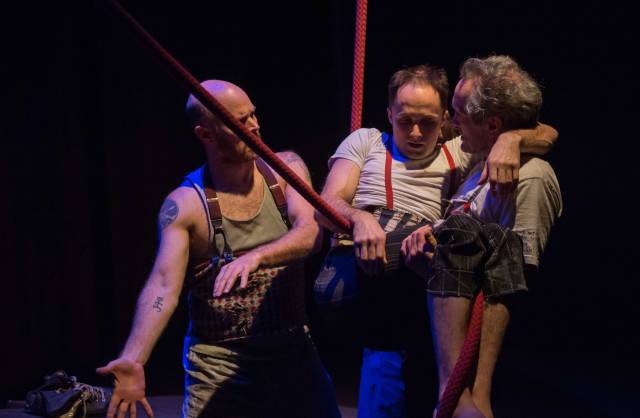 Aerial acrobatics, graceful choreography, heartfelt confessions and measured internal monologues weave together in Fail Better: Beckett Moves UMO. In this production at the New York International Fringe Festival created by the UMO Ensemble, Samuel Beckett's text and style provide the jumping point for a theatrical re-imagining of the playwright's work.
Understanding the process of devising Fail Better truly guides the final outcome. After petitioning to the estate of Samuel Beckett to use various Beckett plays, the ensemble were given permission to use two paragraphs from The Unnamable. The two paragraphs begin and end the performance; perhaps more important, though, are the questions they inspired the writing team, Maria Glanz and Lyam White, to ask, and the way they shaped the choppy, yet poetic dialogue of the piece. The choreography, meanwhile, is based on what director Elizabeth Klob calls "the imagined sounds from the inside of Beckett's head."
The set design is one of the most prominent aspects of the piece. Designer Jon Schroeder has constructed an industrial metal railing, which two performers climb throughout the performance. Often nerve-racking to watch, rope is used throughout the piece for aerial stunts above a long teeter totter, which presents both danger and comfort, as the performers balance, strut, and crawl beneath it.
This ensemble piece embraces all the elements of a Beckettian world: absurdity, microscopic introspection, and profound sense of humanity. There is a cohesion of movement and sounds that has been well-defined by Klob, who guides us through themes of regret, denial, desire, and love. The entire cast (including Terry Crane, David Godsey, Janet McAlpin, Maria Glanz, Lyam White and James Bigsby Garver) have found their own space and presence in this piece by blending and embodying six archetypal Beckett characters.
Fail Better is thought-provoking and visually mesmerizing.  It makes the audience a part of the exploration of the human spirit that so often embodies Beckett's plays and finds new inspiration in and interpretation of his surrealist world.