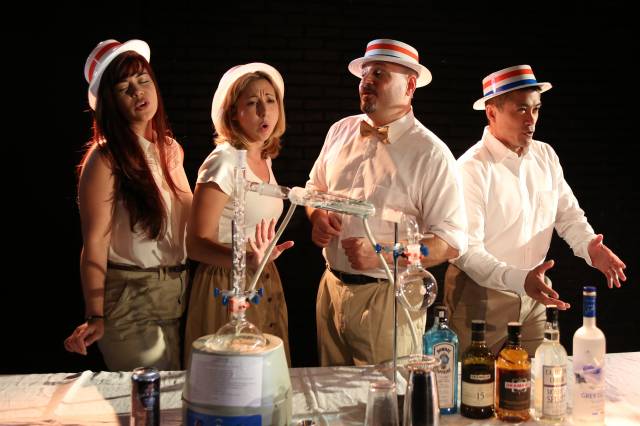 "Join world-renowned mixologist and raconteur Anthony Caporale for a boozy romp through the history of alcohol." So reads the promotional material for this stand-out production which was part of this summer's New York International Fringe Festival -- and a romp is exactly what this is. The Imbible: A Spirited History of Drinking is headed up by Anthony Caporale, who comes across much like Robert Preston in The Music Man—a real Pied Piper dragging everyone along with him on his fanciful ride through the ages as he tracks the history of of his favorite subject: alcohol!
Caporale is himself a very successful bartender, and veteran of many top chef eateries including Bobby Flay's flagship Mesa Grill restaurant, and the Forty Eight Lounge in New York City's Rockefeller.  With his flair for mesmerizing an audience and passion for the storyline, Caporale performs a small scale tour de force. We learn about the early days of the cavemen who, according to Caporale, spent most of their day "just trying to stay alive"; their discovery of alcohol, which was used to sanitize water and helped millions of people to stay healthy. (Up until the 1800's, alcohol was used mostly for its therapeutic effects; it's only in the last couple of centuries that drinking has become the widespread health issue of the day. ) We also get to learn more about prohibition than is usually discussed -- as it is almost never discussed from the point of view of the talented mixologist.
As we travel through time with Caporale and his four talented a cappella cohorts, we are treated to song, and dance, and even liberal samplings of alcohol at different stages of development and evolution. We are first treated to a delicious beer; and the next, I do not recall clearly....probably because it did its job so well! Later on, we are treated to a classic gin and tonic.
The Imbible is educational and rip-roaring funny, with a talented and generous dose of song and dance, and three free drinks. What more could one want on a night out on the town?