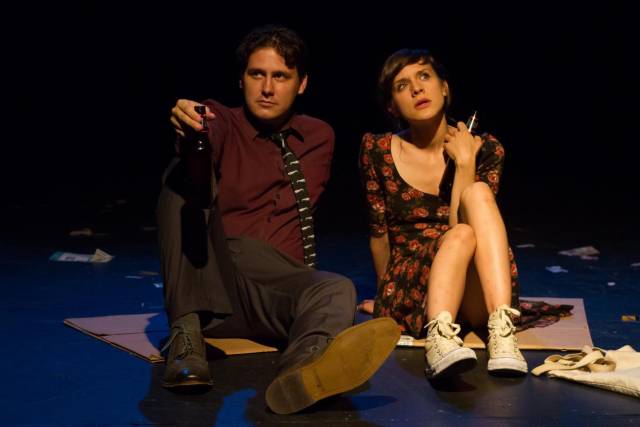 That time when you first arrived to New York City and you were in awe of the city and figuring out yourself and the world, that time is the world of Liminal. Funny, endearing, and full of those wonderful New York City stereotypes about the people and gentrification and the litter, the New York International Fringe Festival play by Amelia Parenteau tells the story of Callinda (Rachael Balcanoff), a 21-year-old New Jersey transplant who is idealistic and naive and hopeful.
Callinda is trying to come to terms with all aspects of life in the inspiring but often unfair city. She befriends a homeless man named Charlie (Allen Jenkins), gives him money when she can, and in her attempt to offer humanity to the homeless all over the city she sincerely cares and worries for him. Callinda is clever and romantic, and she is more aggressive in attacking the lifestyle of wanna-be-hipster and pseudo love interest Jack (Thomas Wood) than finding herself as a poet, which she claims to be. Her moral compass in the city is represented by the comical chorus made up of a mix of three Black and Hispanic women from Harlem. The deli worker (Vanessa Pereda-Felix), the bus driver (Samantha Jane Williams), and the postwoman (Shashone Lambert) all represent New Yorkers who love living in the city but have adjusted to the harsh reality that 'if you can't beat 'em, join 'em'. They litter the streets with their lottery tickets that they scratch on the stoop as they simultaneously talk about how New York City is the best place on earth. If these women are meant to steer Callinda in finding herself and her place in the city, then she'll have to stick firm to her principles, no matter how innocent they appear.
Liminal has us laughing and feeling connected to one of at least a dozen New York experiences ranging from the sleazy guy on the subway to the crazy underground bars. Director Daniella Caggiano was able to capture the spirit and movement of the city with simple transitions and a very natural, relatable style that allows us to again experience New York City in that wonderful 'just arrived here' way.