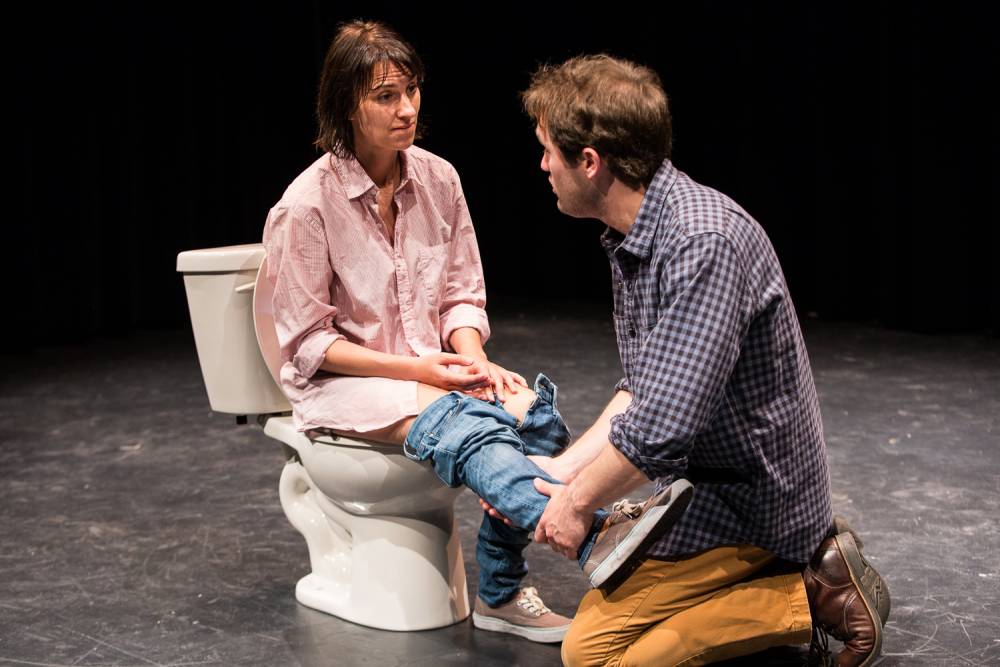 If you were convinced that your reality was nothing more than a staged play, would you try to change it or just wait for the next scene? In Maybe Tomorrow, part of the New York International Fringe Festival, playwright Max Mondi gives us a sweet, dark comedy about Gail (Jennifer Bareilles), a woman who decides to live out her life in the bathroom -- or, as she calls it, her pause room. Inspired by a true story, the play guides us through this "pause", which is at first brief, but soon grows to hours passing by, then days, then months.
This is the world we get to see: the bathroom sink, the toilet, the door, the towel hanger. At first reality is very easy to grasp, peppered with humorous moments.  Gail and husband Ben (Harrison Unger) roleplay in the bathroom, then stage a mock interview, and even watch a sunset through a laptop. However, as we sink further into Gail's depression and schizophrenia, we realize that the bathroom is her mental, emotional and physical prison. Ben at first goes along with Gail's wishes to be left in the bathroom, but his frustration grows as he has to not only look after but also their infant child.
Director Tomer Adorian has given us effortless scenes and plenty of moments when we can feel the utter sadness of the couple's circumstance. The humor of Gail and Ben's interactions and moments of mixed tenderness and resentment enrich the dialogue. Bareilles's honest and delicate performance makes it easy for us to believe and go along with her when she breaks the forth wall and interacts with the audience. Equally, Unger gives a supportive, sensitive performance making it difficult to judge or blame Ben's character for not doing more. We want Gail to be saved, we really do, we all just don't know how.