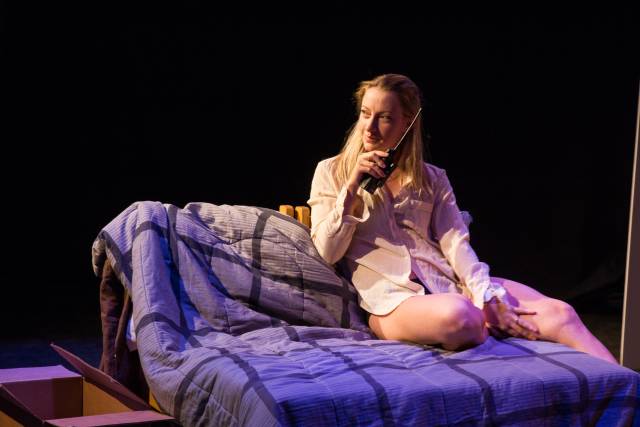 Night of the Living, part of the New York International Fringe Festival, tells the story of Mia (Belle Caplis) and Marshall (Eric Kuehnemann), a married couple making their way in the aftermath of an epidemic that has wiped out the human race. The play, written by Dave Lankford and directed by Jenny Beth Snyder, follows zombie lore recently popularized by The Walking Dead and World War Z. People around the world fall ill with something classified as a form of rabies. No one takes it seriously enough, and before they know it, Mia and Marshall are the only survivors.
The story unfolds in two timelines. In the present day, Mia and Marshall focus on survival, but it's clear they love each other and operate as a team. The backstory of their marriage is shown in flashbacks, and as relationships go, theirs was at its worst just before the world ended. During an argument, Mia tells Marshall she hates him because he makes her hate her life. It sounds like a comment no relationship could survive, but flash forward, and they seem like newlyweds again.
The only time the actors are on stage together is during the flashback scenes. In the present day, Marshall has gone out on a supply run, and gotten trapped in a neighboring building. Their sole communication is via walkie-talkies.
Mia circles through the many emotions one might expect of a wife and mother at the height of a zombie apocalypse. She rages at her husband one minute, and then flirts with him through a walkie-talkie the next, and Caplis shows all of these emotions with convincing determination and versatility. Marshall's best moments occur when he's out of the room and we imagine him trapped in a neighboring building. This is when the couple's most loving moments are revealed, and Kuehnemann adds an intimacy to their walkie-talkie conversations, which, if that intimacy didn't exist, may have rendered those conversations flat. Marshall's love for Mia is the most obvious during these faceless exchanges.
Mia and Marshall's relationship was on the verge of collapse, and watching them rebuild it as the world crumbles around them is a good reminder that marriage can take a beating and still survive.