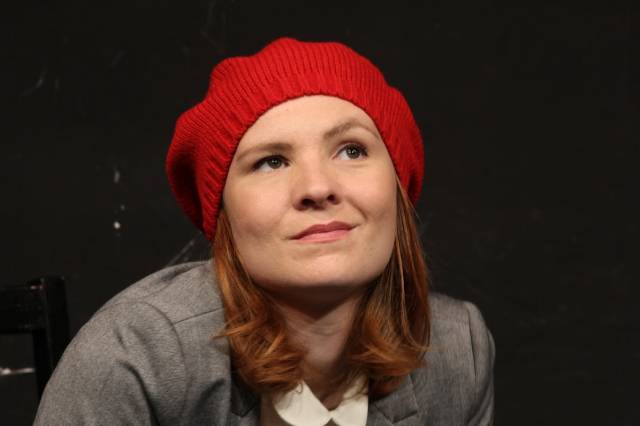 Bertolt Brecht was an acclaimed German playwright, poet, director, Marxist and Lothario, among many other credits. He was born just before the start of the 20th century, and passed on in 1956. He is credited as having reinvented the modern theater. And while he unquestionably left behind a tremendous body of writings, he is also alleged to have liberally taken from and attached his name to many works actually penned by others.
While other biographical sketches on Brecht praise him, The Pawnbroker, now playing as part of the New York International Fringe Festival, instead focuses on Brecht's abuse of the women in his life, and his great propensity for literary theft. This one-woman show written by and starring Katelin Wilcox tells of Brecht's great ability to woo almost any woman who crossed his path. Despite his lack of looks, style, or even personal hygiene, he was so overpoweringly charming and clever—and in later years also so rich and famous—that women were unable to deny him anything.
In fact, not only did women lay down for Brecht, they also wrote for him. While it is readily acknowledged that Elisabeth Hauptmann was "co-author" of his most famous work, The Threepenny Opera, Wilcox's script presents the events from Hauptmann's view that she wrote almost the whole thing, and Brecht stole almost all the credit. This would not be the only case where such accusations were laid at Brecht's feet.
Wilcox has turned out a dynamic and multidimensional script that features the roles of five of Bertolt Brecht's female partners. Each one tells a similar tale of fascination and love of Brecht, their years of toil and tolerance to enhance his career, their eventual disillusionment due to his philandering, and Brecht's abandonment of both his love interests and his offspring. Yes, we certainly see the pattern. We also get to see a glimpse into the lives of each of these woman, and how they differed from one another, each with different strengths and weaknesses. One may be beautiful and charming, another a talented actress or singer, another an extraordinary author. We also get to see each woman's flaws, and presumably, the reasons why Brecht decided to cast them aside. Sickness, age, a lack of benefit to his career, a bad case of TB or pregnancy -- all were reasons Brecht might decide it was time to change partners again.
As I have noted in other reviews, one-person shows are a very special thing. They are almost always the unique passion of the performer on stage. In fact, they have to be, and thus these shows often prove to be wonderful theater. This is particularly true when the performer is also the playwright and/or director, as the passion and commitment are further heightened. The Pawnbroker is no exception, and Wilcox's script and performance are very good indeed. An enjoyable, enlightening, and noteworthy addition to the great series of theater that is FringeNYC.
Performances of The Pawnbroker continue through August 21 as part of the New York International Fringe Festival.  For more on FringeNYC shows, click here.