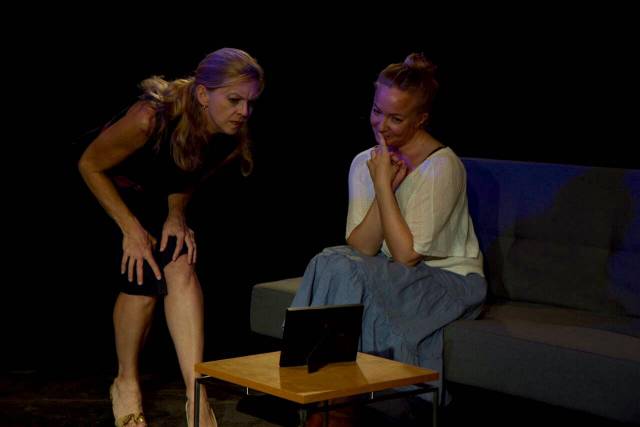 Two women with wildly different temperaments and life experiences are compellingly brought together in Finnish playwright Minna Nurmelin's sharp and perceptive tragicomedy Remember Me, presented by the Scandinavian American Theater Company as part of the 20th anniversary edition of the New York International Fringe Festival.
While on the job, real estate agent Anna (Jackie Sanders) finds herself consumed with thoughts of the devastating, life-altering news she has just received earlier in the day. Anna's inability to concentrate fully on the task at hand sparks the interest of photographer Helena (Heli Sirviö), whose home Anna is appraising. Although 50-something Anna is older and a bit difficult to read, Helena can recognize a sense of desperation and pain, emotions that she herself is currently dealing with.
Helena has recently been dealt devastating news of her own. The dissolution of her marriage and questions of child custody have upended her seemingly enviable life. Nurmelin's script delves into the psyche and backstory of each woman with compassion and insight. Sanders and Sirviö bring Anna and Helena to life, luminously bouncing off of each other, with a range of emotion. The actresses render their characters with multiple layers and the complexity of women who have tried to live their lives as best they could, only to find each questioning their choices and themselves.
Remember Me touches on mortality and lays bare the limitations of cultural expectations placed on womanhood and femininity, and the ideals that are still so heavily ingrained in people even when they challenge these expectations and ideals. In spite of the adversities and disappointments they are confronted with, Anna and Helena's experiences and universal emotions bond them and open them up to unexpected opportunities to appreciate life and help each other.