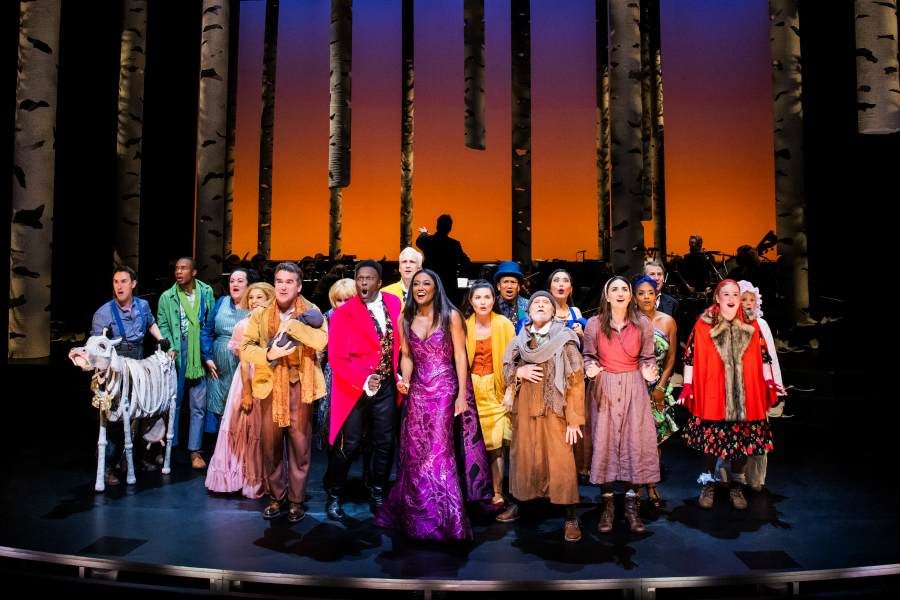 photo by Matt Murphy
Sometimes those of us not easily impressed can be impressed. So it is with Into The Woods, now at the St. James Theater.
The revival marks a return to the original, following a previous sanitized revival and a fluffy film. This is also the first revival since Stephen Sondheim's death. His agriculturally flavored lyrics remain ingenious: "Parsley, peppers, cabbages and celery. Asparagus and watercress and fiddlefern and lettuce," and: "When the end is right, it justifies the beans."
"Into The Woods" is a 'mash-up' of several famous Grimm Brothers fairy tales - Cinderella, Jack and the Beanstalk, Rapunzel, Little Red Riding Hood with suggestions of others. Whereas fairy tales traditionally end 'happily ever after,' by Act II, the play turns decidedly darker as we learn that dreams never come true without consequences.
It tells of a baker and his wife under a witch's spell that has left them childless. To reverse it, they must navigate through the interwoven fairy tales of Cinderella, Rapunzel, Jack and The Beanstalk and Little Red Riding Hood, getting something from each character.
In May, New York City Center Encores presentation of the musical was so well- received that a Broadway version was quickly mounted. With some cast changes and acknowledgement of prior commitments and COVID, there are often understudies replacing main performers. For my performance, three of the performers were understudies. All stepped in admirably, particularly Jason Rorbach as The Baker, giving an emotional performance and conjuring real tears. He changes from a meek young man to a strong leader during his time in the woods.
Patina Miller shines as The Witch - watch her body language. As The Baker's Wife, Sara Bareilles, with her sweet voice imbues the character with warmth and charm. Philippa Soo, as Cinderella sings beautifully. Gavin Creel, wearing bright yellow and Joshua Henry in hot pink, manage to squeeze out every possible laugh as the two egotistical princes vying for who has it tougher in pursuing their elusive loves (Cinderella and Rapunzel.) Creel, in a second role, delights as the evil wolf devouring grandma and Red. And David Patrick Kelly, makes a star turn of the otherwise thankless role of the narrator.
The show is simply and ingeniously staged, with an onstage orchestra and a stand of trees as the main scenery. Three simple cut-outs of houses are suspended overhead. Puppeteer Kennedy Kanagawa makes a star of himself and Jack's cow and giant shoes visualize the otherwise unseen Giant.
With each performer's entrance on stage, the audience was on the verge of hysteria. Sometimes the audience was so revved up that it felt as if I was attending a rock concert. Each song was greeted by wild applause, even for the unknown understudies. Their reactions were a bit much, but who could blame them? The show is a delight.