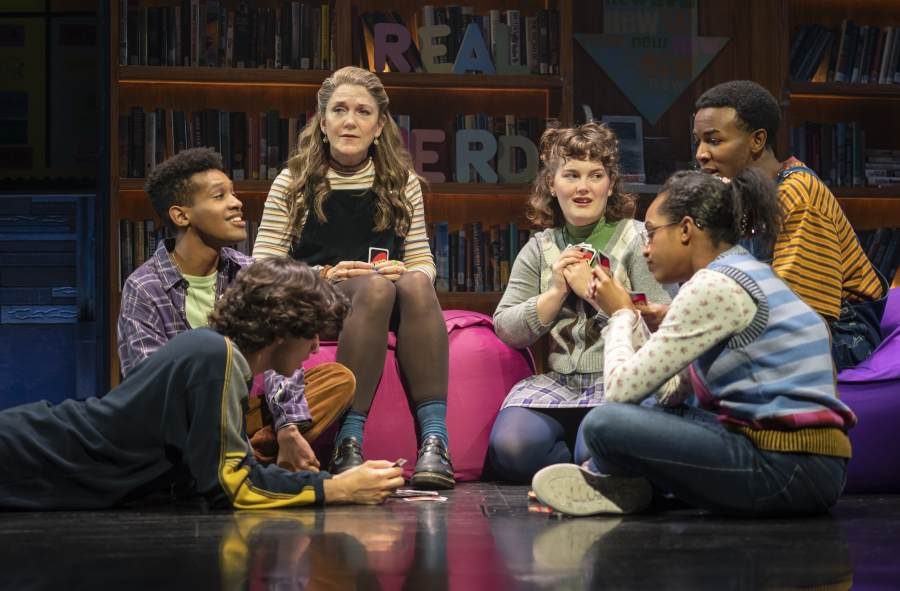 "Kimberly Akimbo" opens with Kimberly approaching her 16th birthday; and nearing the end of her life expectancy. She is a special teenage girl who suffers from a rare condition that causes her to age at 4 1/2 times the normal rate. So at 16, she has the body of a 72 year old.
Yet Kim is optimistic, hopeful and pleasant. Her wonderful disposition is even harder to understand, given her pregnant narcissistic mother (Alli Mauzey) and her alcoholic father (Steven Boyer.)
I resisted seeing the musical, even though it starred the talented Victoria Clark in the title role. I was hesitant because I knew that Kim had an 'expiration' date and thought the play would be depressing. The musical, based on David Lindsay-Abaire's 2001 comedy, has a book by David Lindsay- Abaire and music by Jeanine Tesori. It was mounted in 2021 Off-Broadway by the Atlantic Theater Company where it wowed sold-out audiences and received rave reviews. When the show moved to Broadway, I couldn't avoid it any longer-it was inevitable.
I'm so glad that I finally saw it. Once again, Jessica Stone directed the show, this time at The Booth Theatre and once again, it is getting rave reviews,
Having recently moved from Lodi, NJ, Kim (Clark) is befriended by a classmate Seth. Despite his own issues (deceased mother, a brother in and out of rehab recovering brother and absent father,) he is always upbeat and quite talkative. Seth is into words.
The show includes a quartet of high school students who yearn to be noticed. Although I feared that Kim would be taunted and bullied by the others at school, the musical doesn't deal with bullying. In fact, the four other teens are themselves misfits. Ironically, each has a crush on one of the others, who unbeknownst to them is sexually unavailable.
.
Clark is marvelous playing a 16 year old teen in a 72 year old body. Her slight gawkiness and innocence make her seem even younger. Justin Coooley makes an impressive Broadway debut as the warm, garrulous kid who loves anagrams and is Kim's first real friend.
The rest of the cast is delightful, As Kim's feisty, loud and outspoken Aunt Debra, Bonnie MIlligan stands out. She is on parole and hopes for a second chance by getting the kids involved in illegal activities. She prods them, singing, "You gotta take the reins / break the rules/so you can make your shity life better."
Kim and Seth partner to present a disease for their oral presentation for science class. They chose her disease with Kim as the visual. Yet as she looks around, she realizes that the problems her classmates are going through are much different from her own. They are dealing with teenage issues and can't wait to grow up. Her issue is the opposite. "Getting older is my affliction. Getting older is your cure."
The sword of Damocles hangs over Kim, and I kept waiting for her to die of old age and organ failure. Yet (spoiler alert) the ending is so upbeat and positive as Kim takes control of her life and ventures forward with Seth, that you leave the theater smiling.
"Kimberly Akimbo" is poignant, quirky, and upbeat. The show was a revelation. Funny yet sober. Dark yet so uplifting. Don't be like me and wait. Enjoy "Kimberly Akimbo" as soon as you can.