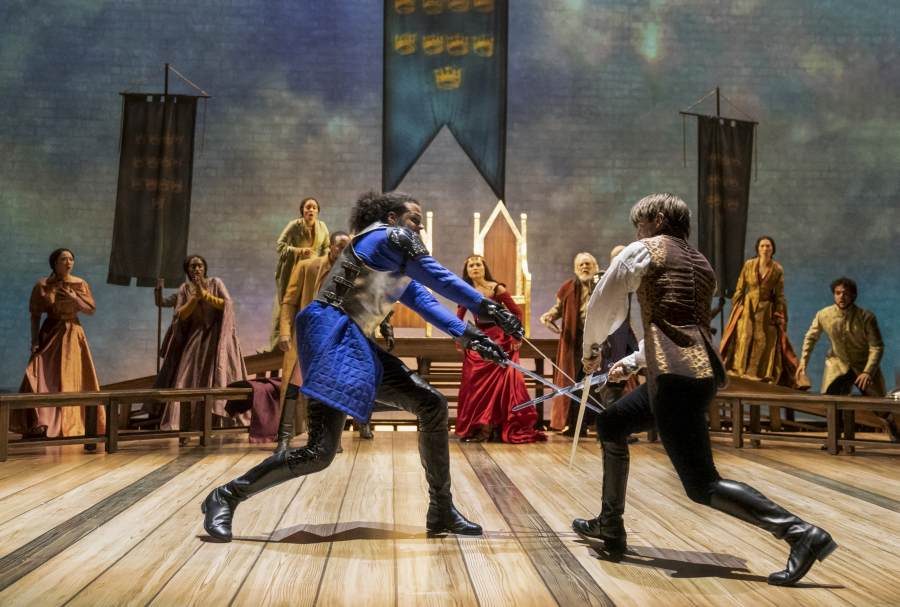 I had such high hopes for the revival of Lerner and Loewe's Camelot at Lincoln Center Theater this season. The music was a known quantity- glorious, lush and romantic. The title song had become a symbol of a young president JFK and the New Frontier he was determined to create.Directed by Bartlett Sher, the revival would feature Andrew Burnap as King Arthur, Phillipa Soo as Queen Guenevere and Jordan Donica as Sir Lancelot, three bright young talents. Most exciting of all was the news that Aaron Sorkin, ("A Few Good Men," "To Kill A Mockingbird," TV'S West Wing" and more) was to write the book.
However, instead of tightening and injecting the script with life, Sorkin makes it more didactic. He adds dialogue to some characters but weakens others. Queen Guenevere is smart and helps Arthur create the Round Table and the code of chivalry. She's more of a modern woman and bristles at the suggestion that, as a female, she can't be involved in matters of government.
As Queen Guinevere, Phillipa Soo lends her beautiful soprano voice to "Before I Gaze At You Again" but we don't feel much for her. Guenevere is lovely but also cold, and even when Arthur suggests to her that they are business partners, her feelings are masked. Soo is best when she sings "Take Me To the Fair," persuading the three fiercest knights to challenge Lancelot for whom she's taken an instant dislike.
Some of Sorkin's changes seem repetitive. When Lancelot and Arthur first meet, the knight doesn't know who Arthur is just as years earlier Guenevere didn't know the identity of the young man she asked to help her escape her marriage. It was a meet-cute the first time, not as cute the second. At their first meeting, Lancelot knocks Arthur out but then helps revive him. Later in the tournament, Arthur jousts in place of the third knight and again is knocked out by Lancelot. Deja vu, anyone? The people think Arthur was dead, and that Lancelot's prayers miraculously bring him back to life. Arthur keeps insisting that he wasn't dead but only had the breath knocked out of him.
As King Arthur, Burnap wins us over with his boyish charm and the self-deprecating manner.Burnap is a bit weak as a singer. No singer himself, Richard Burton talked his way through his role in the 1960 original. Yet a fine singer could have improved the part. Donica, tall and stately, has a bass that resounds through the entire theater. He feels two-dimensional, strongly emotional. Lancelot and Guenevere speak French to one another which lends a bit of reality to the show.
Jennifer Moeller's costumes are stunning and Lap Chi Chu's lighting and the snow globe effects at the beginning of the play add to the sense of majesty and wonder missing in the rest of the show which felt overly long, running close to three hours. Worse than that, Camelot felt dreary, and I'd begun to wish they had cut some of the music.
Sorkin announced that he would take the magic out of Camelot. So instead of a young Arthur magically pulling Excalibur from the stone, he and Guenevere agree it had probably been loosened by a thousand other people before him. Instead of Morgan LeFay being a witch, she is now a scientist making pronouncements about the evil nature of man.
The writer even removes some of the magic from the music, mocking the title song, which almost feels like sacrilege. "It's a metaphor" Arthur explains to Guenevere, but she complains that it's only about the weather and later laughs at the song.
What's wrong with a little magic? Take it out but replace it with something equally uplifting and wondrous. I saw two musical revivals this weekend. Why was one musical glorious and thrilling and the other, Camelot, tedious? Enchantment -anyone?