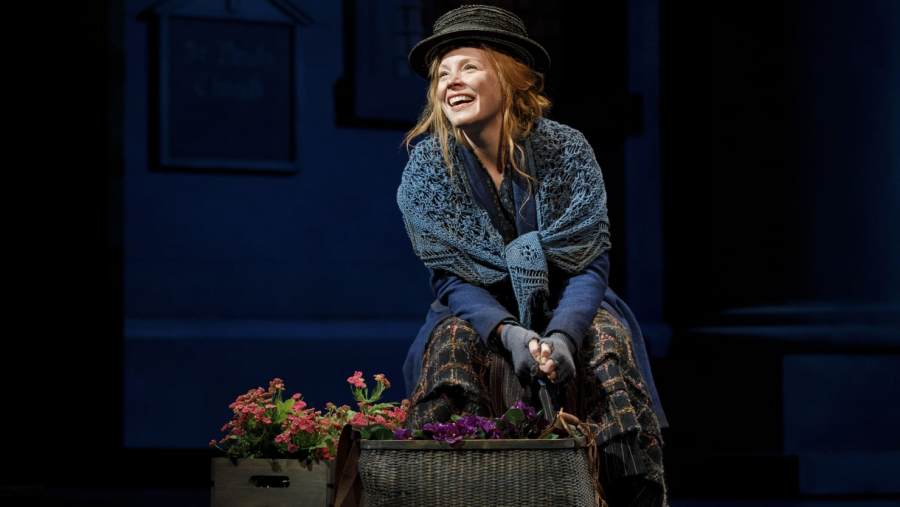 It's one classic Lerner and Loewe song after another: "I've Grown Accustomed To Her Face," "On The Street Where You Live," "I Could Have Danced All Night." I'd forgotten how many wonderful songs the musical team wrote for the award-winning musical My Fair Lady until I recently saw the terrific Lincoln Center revival.
Directed by Bartlett Sher, the show is based upon the myth of Pygmalion, the artist who fell in love with the sculpture of a beautiful woman he created. George Bernard Shaw adapted the myth into a play (Pygmalion), setting it England. His main character is Henry Higgins, a linguistics and phonetics professor who makes a bet that with his training and teaching, he could pass off a Cockney flower girl as a well-born lady. My Fair Lady, the musical based on Shaw's play, opened in New York City Mar 15, 1956 and played through Sep 29, 1962.
The new production stars Lauren Ambrose (Six Feet Under) as Eliza Doolittle, the plucky flower girl who learns to be a lady. Although many of us don't know her as a singer, Ambrose has a lovely soprano voice. She is a good actress and has mastered the various English accents. One need only watch her face to read her gamut of emotions -- from consternation to dejection to elation.
Harry Hadden-Paton, as Higgins, does fine performing as the impersonal, rude professor. Unfortunately, he has only a modest singing voice and isn't able to carry the songs powerfully enough as he sings them. In the original musical and movie, actor Rex Harrison, who was insecure about his singing voice, played the role.  Loewe once remarked that Harrison had a vocal range of one-and-a-half notes. Consequently, Harrison developed a technique of talking his way through songs that proved highly effective. Although Hadden-Paton would have been accused of imitating Harrison, he might have been better advised to do the same.
Norbert Leo Butz stops the show as Alfred Doolittle, Eliza's father, a dustman with an originally honest approach to life. Unabashedly charming, he is funny and endearing as one of the "undeserving poor." Butz is delightful as he sings, dances and carouses in "Get Me To The Church On Time," a big lavish production number.
The musical is beautifully staged and is a visual feast. Catherine Zuber's costumes are gorgeous and subtly individualized, particularly for the Ascot Gavotte (what great hats!) and sumptuous gowns for the "Embassy Waltz." The centerpiece of the show is Michael Yeargan's turntable setting of Higgins' tasteful house. The main action occurs in Higgins' study/workshop, and doors open to allow access to the entryway and bathroom and hallways. In one of the most delightful songs, Eliza sings, "Just You Wait" and scurries through the rooms of Higgins' house as the set revolves.
My Fair Lady was an unusual musical for its time. It had no real love story or secondary plot. Yet it remains timeless. In fact, maybe it's even current since it features an empowered independent woman. This revival has good performances, wonderful music and marvelous sets and costumes. I wish more shows had so much to offer. Wouldn't that be "loverly?"