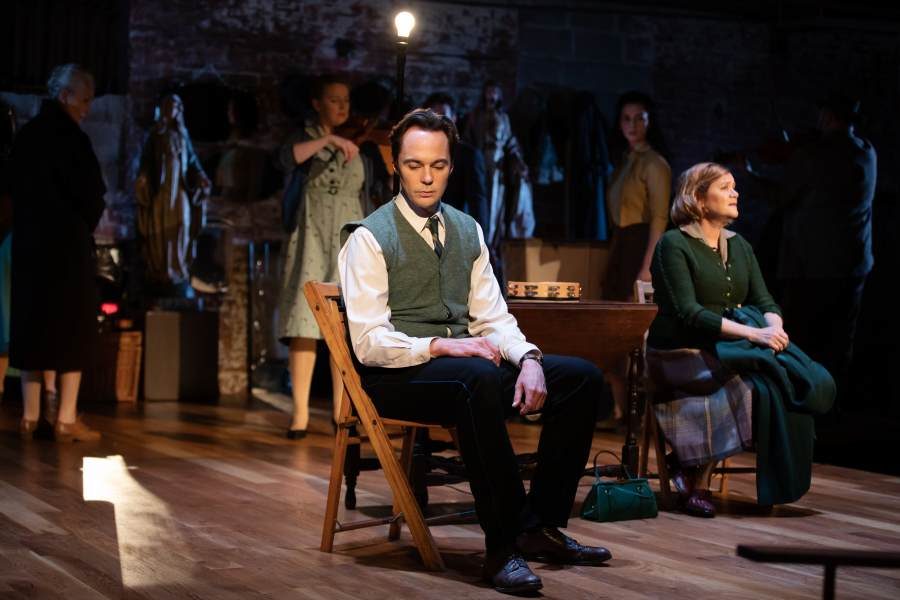 photo by Julieta Cervantes
Alfie is a quiet, ordinary man who is a ticket-taker on a bus during the day, but by evening he is the director of the players at St Imelda's Church. The power of the theater transforms Alfie and his loyal company of thespians. No longer are they merely the butcher, the widow or the shopgirl; they are the performers and the director. Alfie is determined to put on Oscar Wilde's play, "Salome" even though he realizes that the church officials will object to it and find it salacious.
Alfie (a restrained Jim Parsons) also has a secret. He is a closeted homosexual in Dublin in 1963 where everyone is devoutly Catholic. Although Alfie is in love, it's "the love that dare not speak its name." (The phrase was mentioned at Oscar Wilde's gross indecency trial and is considered to be a euphemism for homosexuality. ) Alfie's passion is theater but his choices are affected by his homosexuality, especially his admiration for the flamboyant Wilde (who actually 'appears" in the musical.)
The object of Alfie's affection is Robbie Fay, the bus driver with whom he works every day. (AJ Shively in a nice performance. ) Although Alfie's sexual orientation might seem obvious to some, Lily, his sister, portrayed by the wonderful Mare Winningham, is unaware. She is looking for a wife for him and tries to fix him up with Adele, the young woman Alfie discovered on the bus and convinced to play Salome. Once he marries and has someone to take care of him, Lily will be free to marry.
Parsons is a bit stiff but has a passable singing voice. The other performers, Winningham, AJ Shively and Shereen Ahmed as Adele have fine voices and give good performances. The ensemble cast plays the roles of Alfie's troupe and through skilled writing, the audience gets a quick back story for many of them through their attitudes about the stage
The musical is based upon a 1994 movie of the same name starring Albert Finney. It was turned into a 2002 award-winning Off-Broadway musical with a book by Terrence McNally, lyrics by Lynn Ahrens and music by Stephen Flaherty. Revived by the Classic Stage Company and presented in its intimate space, the play takes on a warmth and closeness. Director John Doyle has actors move through the audience and as he's done with other productions, has some of them playing instruments.
While the story is touching, it might feel dated to some. However, it is a reminder that not too long ago, homosexuality was forbidden and even considered criminal. Ironically, it has a somewhat happy ending, one which, quite frankly, is a bit contrived and not realistic, but it works because we are all rooting for Alfie. "A Man of No Importance" is inspirational as theater 'wins out' over bigotry. Only theater can allow people to temporarily escape their lives to become someone else and to become people of importance.