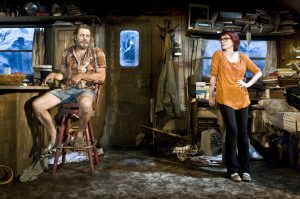 "Annapurna" isn't a title that rolls off the tongue, but it works for the tone of this play: not everything here is easy. Playwright Sharr White has written a dense piece about a difficult and complicated relationship between two people unable to live together but unable find happiness in life apart.
Emma (Megan Mullally) left her husband, Ulysses (Nick Offerman), twenty years ago in the middle of the night. She took their five-year-old son and a few suitcases and vanished into thin air. Ulysses, a talented writer/poet who never reached his full potential on account of being an alcoholic, has decided to live out the remainder of his life in his version of purgatory: a trailer at the base of the Rocky Mountains in Colorado. He knows that he must've done something unforgivable to have his wife separate him from his child, but he doesn't know what it was and feels betrayed by the world. Two decades later, Emma shows up, and the two try to grapple with the truth of what happened as they deal with unresolved emotions.
Mullally and Offerman have a tangible chemistry on stage, no doubt supported by the fact the two are married in real life. For the duration of this two-character, full-length play, they are able to sustain the tension of the plot and the gravity of the dire situation Ulysses and Emma find themselves in. When they discuss their marriage you truly get a sense of how electric, romantic and intense it must have been, and you can't help but spend most of the play piecing together the puzzle of what drove them apart. When the explanation is given it satisfies, but leaves you heartbroken.
"Annapurna" weaves the high stakes and emotions of its characters into every beat, from the opening nude scene to the poetic declarations.  Director Bart DeLorenzo must have enjoyed playing with the witty and fiery back-and-forth between the two actors, which is entertaining and echoes the tumultuous relationship the pair have on the TV show "Parks and Recreation". The set designer, Thomas A. Walsh, did a fantastic job building the inside of a run-down trailer belonging to the hoarder Ulysses.