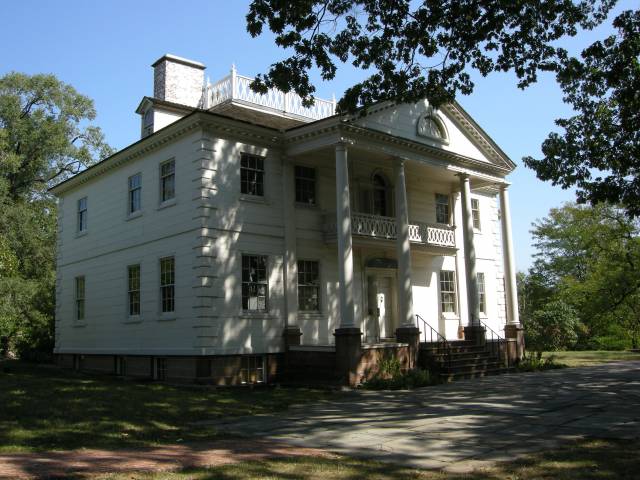 A sprawling old mansion looms out of the darkness, and the surrounding homes in this historic neighborhood are serenely quiet. No police sirens invade the solitude, nor are there weekend crowds spilling out onto the sidewalks. This is not the Manhattan we know.
Our guide, Christopher Davalos, meets the gathered crowd of 16 people at the gate and we follow him into the dimly-lit Morris-Jumel Mansion, which, at the age of 250, is Manhattan's oldest residence.  Once we are settled into our seats in the drafty ground floor room, he exits, closing the heavy door behind him with a bang. An envelope lies conspicuously on floor, beckoning someone to read it, and since the event has been billed as audience-immersive, someone does.  It's an anonymous letter, informing us that we're inside a home well-known for paranormal activity. People have died in the house, perhaps violently, and for the remainder of our visit, we are to avoid the shadows and always follow the light.
Enter Lauren (Kim Vogels), a young woman who has moved to New York to pursue her music career. She has taken a job as caretaker of the mansion, and looks forward to a quiet evening strumming her guitar and writing her latest song (music written by GRR). It turns out to be anything but the solitude Lauren had hoped for. Just as she begins to sing, the mansion's alarm system inexplicably goes off. Eventually, there are enough peculiar thuds and bumps within the house that Lauren must acknowledge she isn't as alone as she thought she was.  She comes upon an old journal with letters and news articles referring to past evidence of a ghostly presence, namely that of the eccentric and wealthy Eliza Jumel.  While Lauren's back is turned, the audience is treated to a brief glimpse of this spirit (played by Constance Cooper). The lights go out and we are left in the dark.
In Awakening in Ink, writer and director Vincent Carbone draws on actual correspondence from Morris-Jumel's archives. He builds Lauren's story around this correspondence, which Lauren reads by the light of her lantern as she chases the source of the noise from room to room. We stick close to Lauren—she is the only source of light after all—and though the audience is intimate in number, we still present quite a crowd trailing her from room to room. Despite that, Vogels easily ignores us and makes us believe she's alone in the house.
The mansion comes alive during the performance. Lauren's lantern throws eerie shadows across the walls, which are decorated with portraits of the long dead. Every time an old floorboard creaks, which is often, we jump: is that one of us that wandered away from the group, or did something just glide across the dark hallway? Is that a presence lurking in the corner? It's too dark to tell.
Awakening in Ink is a history lesson more than anything. For non-believers, the real-life correspondence lends credibility to the paranormal story line. The performance is also an opportunity to tour the mansion in its quietest hours. We even get to stand in Eliza's bedroom, next to the bed she claimed once belonged to Napoleon.
Paranormal activity is just one of the interesting facets of Morris-Jumel Mansion, which was built for Roger and Mary Morris in 1765, in the days when wealthy New Yorkers fled to Upper Manhattan for the cool river breezes and country air. When the American Revolution began, Roger and Mary, who were British loyalists, fled to England, and George Washington commandeered the home as his temporary headquarters. Eliza and her husband, Stephen, moved in in 1810, and after Stephen's death Eliza was briefly married to Aaron Burr. Eliza died in the house in 1865 at the age of 90.
Lauren follows the trail of Eliza's spirit in a house where Washington actually slept, where Stephen Jumel died after his doctor treated him through bloodletting. Enough scandal and bloodshed occurred during the mansion's heyday to make us wonder what's lurking in the shadows today.