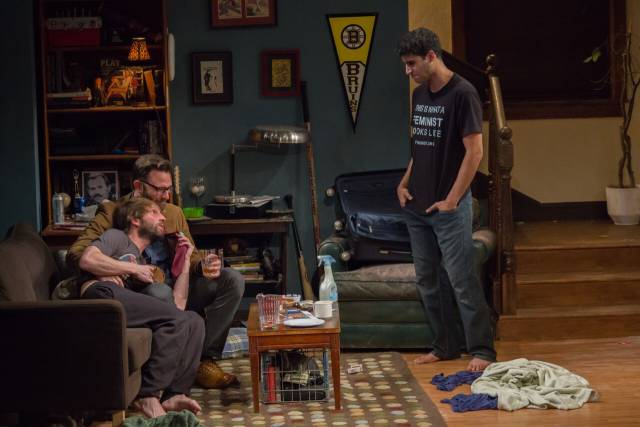 Whenever you hear the word 'bachelor' a specific image is likely conjured, of a youngish man who seems to be stuck in his college days and isn't quite ready to settle down. In Lesser America's The Bachelors, currently playing at Rattlestick Playwrights Theater, we have the pleasure of meeting three such buddies, Henry, Kevlar and Laurie, living together in their fraternity row bachelor pad.
From the beginning, the set design (by Carolyn Mraz) and playlist do an incredible job of bringing the audience into the college world.  As we enter, the song "Shots" by LMFAO is blasting and the crowd is lively, mingling with their drinks as though this were just another house party.  The floor is littered with beer bottles, condom wrappers, blankets, and crumbs galore, and the shelves with random trinkets, garbage, and the occasional book. It's everything a house on fraternity row should be. The half-eaten watermelon sitting on the coffee table was an especially creative touch.
The show starts with Kevlar (played by the very funny Blake DeLong) coming into the house and passing out drunk on the floor. Soon after, we meet Laurie (played by the anxious-in-a-good-way Babak Tafti) coming back home from a business trip. As Laurie attempts to help his friend sober up, Henry (played by the grounded Quincy Dunn-Baker) drops by, ready to keep partying. Director Portia Krieger has created a world in which the characters interact so well the audience can be laughing with them one second, and in stunned silence the next.
As the show continues we begin to see not only the 'bachelor' side of these men, but also the real struggles and problems they're facing in their lives. Through it's clever dialogue, especially Kevlar's drunken tangents and retorts, and also intimate conversations and moments between the three men, playwright Caroline V. McGraw makes sure that we really see the truth within these characters and can understand their situations as if they are our own. In only one hour, The Bachelors really makes you think about the choices you make the consequences they have. You'll leave feeling slightly unresolved, but life has no resolution, right?