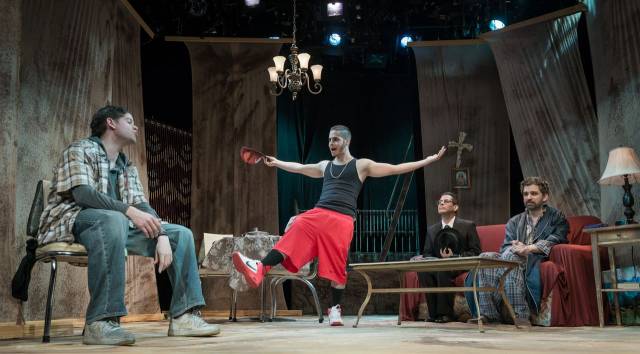 Barceló con Hielo (Barceló on the Rocks) is a must-see performance at Repertorio Español: without a doubt it will soon become an emblematic play for the Dominican culture in New York. The world premiere play is written by Marco Antonio Rodríguez and directed by José Zayas -- a combination of talents that contemporary Spanish theatre needs.
The play, which takes place at a typical Washington Heights apartment, explores the psychology of a Dominican Republic immigrant reluctant to accept his reality. Nino Antonio Ortíz (played by playwright Marco Antonio Rodríguez) is a single father of two who has fallen ill and knows that it is time to unpack his heavy baggage filled with pain and dark secrets. In flashbacks, we meet his brother Fello (Jerry Soto), his childhood friend Jaston (Indio Melendez) and the former President of the Dominican Republic, Joaquín Balaguer (Fernando Then).  Through these flashbacks, we learn that Nino is someone who has never cared about politics, but they've still affected him tremendously through his brother. We also learn why he is so bitter and racist, and why he now drinks Barceló on the Rocks (it was his dad's favorite drink).
Marco Antonio Rodríguez gives a truly spectacular performance with a precise direction by José Zayas. Also remarkable is Fernando Then as Joaquín Balaguer. His voice and diction are reminiscent of an elegant 1950's actor.  Ivan Camilo plays the responsible young son, Sergio, who remains loyal to his father regardless his racist, homophobic comments and rejection towards his dreams of becoming a painter. Camilo demonstrates his professionalism and talent on the stage, remaining in character even when the whole audience bursts into laughter at the scene with Sergio's brother, Dennis. (Even in the saddest moments of Barceló, there is room for comedy.)  Dennis is someone without ambition, interpreted in a caricaturesque way by Javier Fano. These characters have tangible familial affection for one another regardless of their generational differences.
The play is performed with English subtitles via Simultext In-Seat Captioning System.  The only downside for the non-Spanish speakers in the audience is that not all the folkloric words translate. Still, with its layered characters and its universal message, it is a play that not only Dominicans will enjoy.
Performances of Barceló con Hielo continue through October 5 at Repertorio Español.  For more information go to www.repertorio.org.