Review: así van los fantasmas de méxico, primera parte (so go the ghosts of mexico, part one)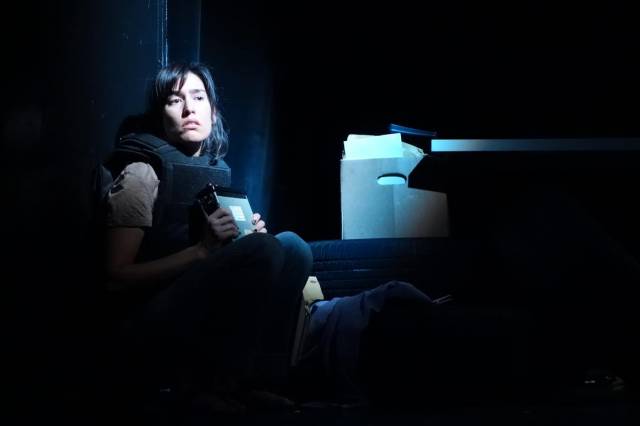 This 2012 Princess Grace Fellow Award-winning play by Matthew Paul Olmos is the first of the three-play cycle exploring drug cartels between Mexico and United States. así van los fantasmas de méxico, primera parte (so go the ghosts of mexico, part one) was originally written in English. Now it has been translated into Spanish and directed by Estefania Fadul as part of the Van Lier Young Directors Fellowship at Repertorio Español.
The play is inspired by the 20-year-old woman who made headlines in 2010 after replacing the murdered police chief in her small town in Mexico during the most violent period of the drug war. Marisol Vallés García is the criminology student who tries to bring her community together with a non-violent approach. She decided to disarm her few officers and promote family values to keep children away from the cartels.
Audience members should not expect Marisol's literal story. This play is a phantasmagoric poem with a decapitated ghost, an imaginary child and a magic car radio. Marisol's predecessor becomes the ghost in the play who encourages her to not give up and could also represent other victims clamoring for justice. The drug dealer character tends toward caricature, while the "Gringo" is an abstract representation of the United States.
Bilingual actress Maria Peyramaure stars as Mari, bringing her energy and commitment to the role. She and David Mila (the latter as the unsupportive husband) have a tangible chemistry onstage. Their connection to the imaginary daughter makes it believable and moving. (Mila, though, could work more on his Mexico's northern accent as it sounds too forced.)  Jorge Consejo, a well-known Hispanic television actor, occasionally overacts in his role of the "Gringo". With this character Olmos questions the role that the United States play in drug war, demonstrating how the "gringo" is who funds the cartels. Felipe Bonilla and Bobby Plasencia as drug dealer and ghosts respectively also did a good interpretation of their dramedy characters. 
Simultaneous live translations into English are appreciated, though the sound quality should be improved, as should the connection between the two voiceover actors.   All in all, a must-see if you want to support Repertorio Español's Spanish plays.
Performances of así van los fantasmas de méxico continue through August 31 at Repertorio Español.  For more information go to www.repertorio.org.