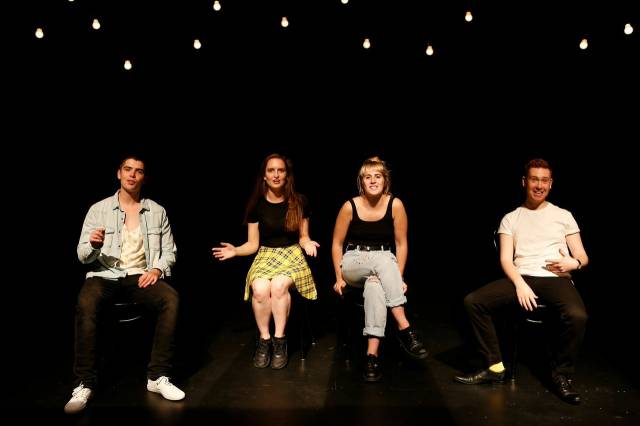 The promotional material on Dylan Coburn Gray's Boys and Girls, part of the 1st Irish Festival, describes it well: "Emerging from the Irish spoken word scene, this play paints the Dublin nightscape in pyrotechnic verse; 4 intercut voices muse, tease, and rant in an ever-escalating rhythm."
This is not a play. It is spoken word, in verse. Much of the time, it is spoken tongue twisters. Much of the time, our American ear is working overtime to follow the sounds coming off the mouths of the four extremely talented young performers spinning their tales of late night adventures, sexual escapades, and dealing with all the mixed signals and emotions that come with the climb out of adolescence.
The four performers, two boys (Seán Doyle and Ronan Carey) and two girls (Maeve O'Mahony and Claire O'Reilly), take turns standing, having the spotlight on them, and describing with full energy and amazement the events of the past evening: sharing the things that went well, that made them happy; sharing the things that did not, and their attempts to deal with it as best they could.
The stories are from the points of view of the boys, and their evolving understanding of their place in the world in general, and how they relate to women. One is not quite sure just how chauvinistic he wants to be. The other acknowledges his lack of drive with the opposite sex, and is happy to retreat to the securities of a relationship with a girl that has grown out of their childhood.  The girls are just shy of being women, but closer than the boys are to being men. They have a better understanding of how they relate. Where the boys are dealing with what they can get from women, the women are dealing with what they can live with from men.  You see, these decisions being made are not just decisions they are making for the night or the weekend: they are making decisions on who they will be, and what kind of adults they will become.
The dialogue is fast paced and riveting. Like sitting down to Shakespeare, your ear will take a few minutes to catch up to the foreign accent and unfamiliar words. But this will pass. And you will find yourself sitting in on a 60-minute verbal roller coaster ride that if you are of a certain age, might just bring you back to your own adolescence for a brief moment, with all the funny and painful things it brings to each of us.
Murmur Productions' Boys and Girls continues its run at 59E59 through September 28. For more information, click here.