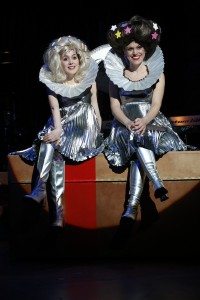 "On the final night of her reign as World Queen of the Cocoa Bean, the glamorous and eccentric Cookie Conwell fulfills her lifelong dream of hosting "The Chocolate Show!" where she must choose her successor. Who will be the next to wear the solid chocolate crown?"
So reads the synopsis of this new (slightly) Off-Broadway musical. While scaled down for this production, the show feels like it has the makings of a full-blown Broadway musical, with wonderful talent and great music, direction, and choreography. The show stars Emily McNamara as Cookie Conwell, a leggy blond who, despite a narrow waist, claims to have been addicted to chocolate her whole life. McNamara is known for a wide range of stage and cabaret work that includes her MAC-nominated "Mostly Sondheim" show. Her rendition of Cookie is spot-on funny — think a more glamorous version of Phoebe from Friends.
The story opens at an annual chocolate show -- a pageant of sorts that is hosted by Cookie. The show, we learn, has an interesting history: its founder chucked a prosperous career in Typewriter Supplies to follow his dream of founding the world's first chocolate association, which has grown from just eight members to a huge success.  We are also treated to the tongue-firmly-in-cheek history of chocolate, presented in five parts, like old time variety show romp. Along the way, audience members get swooped up into the action to become the contestants in this year's competition for the title of World Queen, or King, of the Cocoa Bean.
The music is fun and wonderful, and includes such numbers as "Chocoholics Anonymous", "Death by Chocolate", and "The Secret Life of Cupcakes", all wonderfully performed by the supporting cast that includes two talented women and two equally talented men. There is the raven-haired beauty Laura D'Andre, the beautiful and talented Talene Monahon, who has a great solo number in "Kids Again", Andrew Pandaleon, who shines as a hip black-and-white cookie in one scene, and veteran talent James Patterson, an obvious triple threat.
The end is a hysterical surprise where all heck breaks out and nobody knows what's going to happen, who is going to win, or what will become of the venerable Chocolate Show. Fortunately, everyone in the audience is given a bit of chocolate when entering the theater -- and I have a good hunch than many of us leave the theater and venture out to the nearest emporium to buy some more. I know I did.