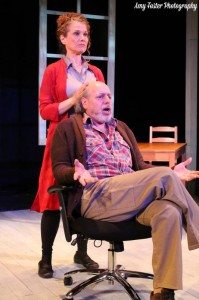 If free choice is the most important tool we have at our disposal, how much can we really mess up our lives? In Christopher B Latro's play Devoted Dreams, the central character, Alexander (Brandon Alan Smith), leads a life that spirals out of control. He has a strained relationship with his parents and wife, he and his lover are stealing company funds, and his sense of purpose in life is unfulfilled. And yet, he does little to improve his situation and even conscious of the risks, continues to make unfavorable choices.
The play begins and is swiftly intercepted by a couple, who are god-like figures debating how much free will to grant to us humans. Their comical interactions pose the central question of whether or not we truly are the masters of our fate. The morality and value of our ability to make choices is reflected through Silver (Michelle Girolami), a child sent by the gods to help Alexander, his wife Eva and his lover Lesley (both played by Sarah Swift) figure out what they want and how they feel about one another.
As we witness Alexander, Eva and Lesley knowingly submit to their self-imposed misfortune we cannot dismiss that they are themselves to blame. Greed and selfish desire puts everyone and everything at stake. In all this gloom, Silver provides a comedic element in the manner children often do, by saying those things adults are afraid of. Silver innocently pushes all the characters to an uncomfortable spot, forcing them to reflect and ultimately confess their true intentions.
Director Anna Bamberger gives all actors moments to play both the naive child and the short-sighted adult, creating an interesting dynamic and suggesting that even though we have free will, we are still responsible to someone or something for our actions. The set (designed by Lauren Mills), easily transforms from office to bedroom to living room -- a necessary quality, as the play quickly jumps around to multiple locations.
There are moments that the play falls to predictable caricatures and stereotypes, giving both director and actors clear limitations. Some jokes don't really land and there are parts in the dialogue that throw too much information at us, like discussing the illegal transfer of funds. However if you enjoy pondering philosophical questions, there is an opportunity to do so in Devoted Dreams.