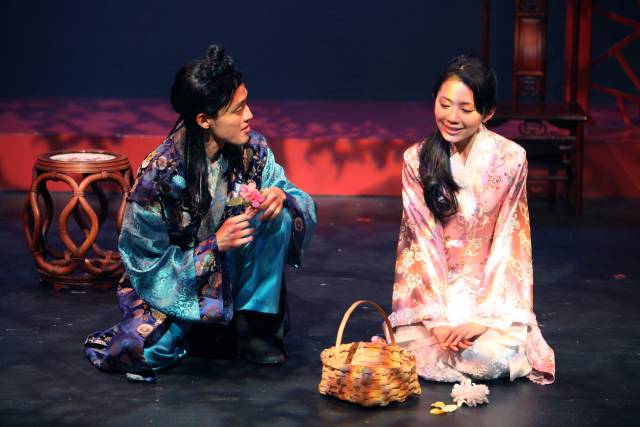 A Dream of Red Pavilions is one of the four the most famous works of traditional Chinese literature, the other three being Journey to the West, The Tales of the Three Kingdoms and Water Margin (All Men are Brothers), but little known outside of Asia. A new stage adaptation by Jeremy Tiang for the Pan Asian Repertory, directed by Tisa Chang and Lu Yu, is only a small snippet of the whole story, but provides an excellent entry point to the philosophy and history in the Qing dynasty.
The play introduces us to a middle class Chinese family from Chinese living in a rural village. There is Jia Baoyu (Vichet Chum), the only son of the family, who is in love with the "little cousin" Lin Daiyu (Kelsey Wang). But an engraved quote on his necklace matches with the verses written on a bracelet worn by Xue Baochai (Leanne Cabrera), and Jia Baoyu has to make a decision between love and fate.
The father, Jia Zheng (Fenton Li), and Granny Liu (Shigeko Sara Suga) are meanwhile in constant worry about their children's future and the wellbeing of the whole family. The sisters Jia Tanchun (E.J. An), Jia Yuanchun (Mandarin Wu) and Jia Xichun (Audrey Wang) have to live up to the dreams of their elders, and one by one drift away from the family home. The key influencer who disturbs the balance of the family is Wang Xifeng (Allison Hiroto), a distant cousin who spins intrigues to gain power over her relatives and constantly strives for wealth, which eventually leads the family into a major catastrophe. In dream sequences, Xifeng is haunted by Qin Keqing (also Mandarin Wu), who prophesies her downfall, but despite the warnings Xifeng follows her greedy mind. Jia Baoyu, a simple man who lives from day to day, tries to keep away from drama and to enjoy his life. His prophetic visions of fairies and dreams eventually lead him to enlightenment and solitude.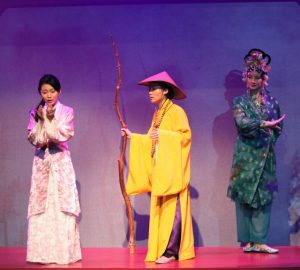 The performance is a lovely treasure of East Asian art. The stage set by Sheryl Liu resembles the simplicity of a Chinese house. On stage left and right, projections by Douglas Macur show impressions of the changing seasons by depicting growing flowers and trees, creating many beautiful moments. In the second act, the women of the family are chased out of the house into the falling snow, and the peaceful but icy environment created by the projections feels at once symbolic and tragic. The costumes by Hyun Sook Kim are modeled after clothing from the Qing dynasty, with many lovely colorful dresses and shoes for the women.
In a post-performance discussion, Jeremy Tiang, who grew up bilingual, described some of the difficulties in translating some themes for modern American audiences, such as the complicated class systems of the time.  Yet the play very much comes together, assembled by a professional and dedicated ensemble and stage crew with the passion to open up East Asian stories into the English-speaking world.