Buster Poindexter quietly stepped onto the stage. Butler, Bernstein, & The Hot 9, the musical collaboration featured for the 3rd annual holiday variety show at Town Hall, was already in full swing. Poindexter, the evening's host, lingered in the background, elbows propped on the massive piano, snapping his fingers, until it was time to step up to the microphone. This entrance—not as splashy as one might expect from the punk rock veteran—set the evening's tone. It was going to be a casual, anything-goes kind of show, with a bantering host and holiday music to snap your fingers to.
The first performer was Madeleine Peyroux, who is known for blending musical genres such as jazz and pop, and has been rightly compared to Billie Holiday and Ella Fitzgerald. Raul Midón then settled the audience into a quiet contentment with "Together for Christmas," an emotional, soulful song that he wrote for his wife.
Lest anyone take things too seriously, Poindexter kept the audience laughing.
"This is great," he said, in his deep, droll voice. "And I don't like anything."
Poindexter still wears his signature pompadour, and has an expressive face that makes people smile. His wife, Mara, was ever-present on stage with him, sipping on a drink and simply enjoying herself like we were all at their house for a Christmas party.
Jazz and cabaret singer Carole Bufford created a Dixieland Christmas feeling with her swinging rendition of "Christmas in New Orleans," followed by the Sephardic folk singing of Basya Schechter, lead singer of Pharaoh's Daughter. If the audience didn't get the diversity of talent on stage up until then, Schechter confirmed it.
Longtime soul artist Lee Fields, of The Expressions, brought some funk music to the stage, followed by bluesy, rock-n-roll versions of "Please Come Home for Christmas" by Henry Butler, and "God Bless the Child," by Terry Reid.
Butler, Bernstein, & The Hot 9 began the post-intermission set with a beautiful jazzy version of "Dance of the Sugar Plum Fairy." Hal Willner, music supervisor for Saturday Night Live, then performed a reading of William Burroughs' The Junky's Christmas, set to dramatic background music as Burroughs originally performed it. Each piece of the performance was independently strong—Willner's reading was both comical and tragic, as the story demands, and the band was impeccable--but the volume of the music drowned out the reading, making it difficult to hear both.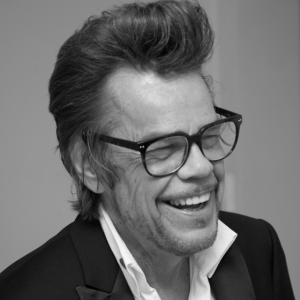 Mercury Rev, an alternative rock duo with roots in psychedelic rock, brought an entirely different energy to stage with their ethereal, eclectic sounds, which at one point had lead singer Jonathan Donahue plucking a woodcutter's saw with a violin bow, filling the room with an otherworldly twang.
Poindexter followed up every few performances with short, funny anecdotes, saying that Thanksgiving, Christmas, and New Years were the "triumvirate for the alcoholic."
"Beginning of January, you can't get a bed at Betty Ford clinic," he joked.
The diversity of the rotating guest performers, Poindexter's lighthearted commentary, and the astounding talent of Butler, Bernstein, & The Hot 9 (there didn't seem to be a horn that Steven Bernstein couldn't play) kept the evening rolling along, making things feel a lot like Christmas.