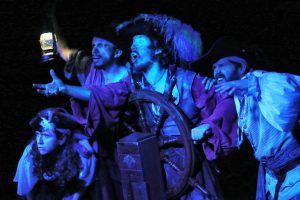 "Flung into the future by a bumbling Sea Witch, a crew of misfit pirates now only have one chance of returning home: performing the greatest pirate epic ever seen on stage!"
So opens the prologue of this off-Broadway story for all ages, "The Greatest Pirate Story Never Told". The show stars five comedic pirates, who spin their tale with all tongues tucked firmly into their cheeks — at least when they aren't singing.
Running about 60 minutes without intermission, this clever romp deftly walks a fine line: the script — which includes lapses into improvisation — works for both kids and their parents at the same time. Outwardly it is a children's play. And yet there are plenty of references only parents would get -- from political and sexual jokes to lyrics from Gilbert & Sullivan. In addition, the theatrical fourth wall is regularly taken down in this production, which involves a great deal of audience interaction.
The lead character in this ensemble cast is that of the pirate Captain, who becomes known as the "Director" later in the show and is played by Christopher Leidenfrost. His strong charisma on stage sets the tone from the start as a broad comedic farce. Leidenfrost, who oddly reminded me of Rob McElhenney ("It's Always Sunny in Philadelphia"), was center stage for much of the first half of the production. During the second half his character sat back more, allowing space for the four other characters, played by David Anthony, Rebecca Diaz, Risa Petrone, and Kevin Maphis, all charming, talented, and entertaining performers. All performances are supported with admirable (yes, high-seas pun intended!) jobs from Katy Roberts on the set design, and Scott McNeal on costumes.
"The Greatest Pirate Story Never Told" is a good example of a niche off-Broadway house's ability to serve narrow markets -- this particular market being the Broadway district's live-show offerings for kids. While Disney owns the market, their products are better geared to older kids, exemplified by running times of 2.5-3 hours each for Mary P, Lion King, and Newsies; this 60-minute production is the perfect answer for the 4-10 set, and up.