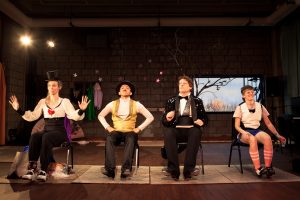 Making its world premiere, the New York City Players' production of Tina Satter's "House of Dance" is one of those performances that leaves you uplifted and fulfilled.  The show gives you a glimpse into the world of dance -- and even if you don't have firsthand experience with this world yourself, by the end of the play you will understand its inner workings and may even want to join in its madness.
The bittersweet story, which Satter both directed and wrote, stars four performers who, in the setting of a tap dance class, reveal to us their disorientated lives, where tap dancing is both a vice and a salvation. Lee (Jess Barbagallo) takes tap classes secretly and comes to Martle's classes both for support and to escape her family. Martle (played by Jim Fletcher) is understanding, albeit in his detached way, and begins to choreograph a piece for Lee, who intends to enter herself in a tap competition the following day.
Brendan (Elizabeth DeMent) soon enters the mix, physically forcing herself into the dance studio after Martle tries to block her from joining in.  She brings with her chaos and a reminder of a happier time for both her and Martle: once a great tap dancer, she has now lost her way along with her pink onesie; likewise, her semi-romantic, semi-destructive relationship with Martle is no longer as easy as it once was. Martle's assistant and piano accompanist, Joel (Paul Pontrelli), rounds out this odd, humorous group.  While the characters, in their own way, help Lee prepare for her audition, they remain guarded, showing us that even though tap can be a collaborative performance, it has a large solo element.
In its entirety, the piece is moving, with simple and eloquent tap dancing sequences and a lot of heart.  Satter has found this unique and endearing way to let us into this obscure world, where time seems to stand still.  When the lights go back up, you'll find you aren't ready for the class to be over.
Performances of "House of Dance" continue at the Abrons Arts Center through November 9th.  Check out our full event listing here: https://stagebuddy.com/listingdetail.php?lid=14695