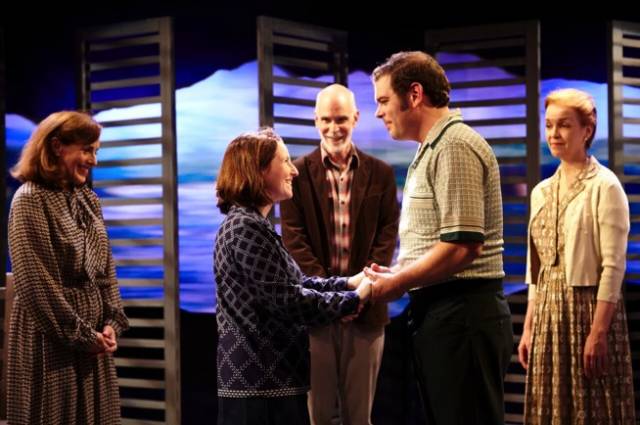 Fourteen-year-old Natalie Marx (Jake Lipman) is on quest for justice. Inquiring about a potential summer vacation, Natalie's mother writes to a quaint inn in Vermont. A reply comes back from the proprietor that "our guests who feel most comfortable here, and return year after year, are Gentiles." Natalie, whose hero is Anne Frank, is confounded by this bigotry. It's 1964 and she can't believe people are still prejudiced.
Produced by Tongue in Cheek Theater and directed by Kimberly Faith Hickman, The Inn at Lake Devine is based on a novel of the same name, written by Elinor Lipman. The stage adaptation, written by Jake Lipman, closely follows the novel.
The incident with the innkeeper sets Natalie's life on a particular course. She meets a girl at summer camp named Robin Fife, whose family spends time every summer at the Inn at Lake Devine. She needles her way into Robin's family vacation in order to meet the offending innkeeper.  It's on this trip that we meet the play's most entertaining characters. The Fifes sing camp songs and show tunes all the way to Vermont, and Mr. Fife later takes Natalie on a car ride to tell her how highly he thinks of "the Jewish people."  The innkeeper Ingrid Berry (Jennifer Dorr White), while not showing her racist colors, confirms that she is in fact, not a nice person. Dorr White is villainous in her performance; at most, Ingrid displays only a cool courtesy to her guests, and she seems to have taken a special dislike to Natalie. Nothing especially awful happens while Natalie is there, but she never forgets Ingrid's sharp tongue.
Ten years later, Natalie and Robin run into each other at a shoe store in Boston, and Robin extends an invitation to her wedding at none other than Lake Devine. Robin is engaged to the Berrys' dreamy son Nelson (Carson Lee), and they're throwing a winter white wedding. Robin is still sweet and doe-eyed, and Natalie has once again accepted an invitation not out of genuine friendship, but to lay eyes on her nemesis once more. This lack of transformation causes a lag in the story line. Natalie is holding onto a decade-long grudge, but to what end is unclear. She's still as angry at Ingrid as her teenage self was. Upon her arrival at Lake Devine, tragedy strikes and Natalie finds herself thrown into a family drama with people she hardly knows. She finds an ally in the Berrys' youngest son. Kris (Andrew Spieker), an all-around nice guy.
Genuine voice talent is on display during the many musical interludes. There are Christmas carols and church hymns, and when the story transports us from Vermont to the Catskills, we are treated to an entertaining duet of Irving Berlin's "All by Myself" (sung by Tony Wolf and Jessica Giannone).
The novel includes numerous subplots, not all of which seem important to the overall story, and Jake Lipman's stage adaptation follows it perhaps a little too closely; there were so many different scenes that one of the byproducts was too many scene changes. The constant movement of props and characters walking on and off the set became a distraction, especially when certain scenes didn't resonate beyond the moment they were in. It's a testament to the actors though, that these numerous shifts were pulled off in sync.
The Inn at Lake Devine is an ambitious play, with good acting and enjoyable music that ultimately comes together to tell Natalie's story, and the message of her story, her willingness to stand up to an injustice, is just as important today as it was decades ago.