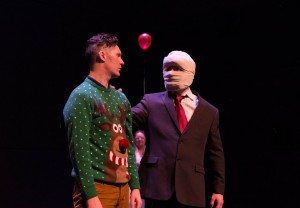 Call it "experimental", "avant garde", or even "therapy theater" (yes, I may have just coined that last one), this Irish Arts Center production is not your standard linear-narrative theater experience.
At the beginning of "Have I No Mouth", currently at the Baryshnikov Arts Center as part of PS 122's Coil Festival, Feidlim Cannon comes out onto a stage that is specked with a few chairs, a couple of tables, some point-of-purchase style standing cardboard cutouts (which we later learn are life-sized cutouts of him and his brother), and some infant highchairs along the left of the stage. A video is playing on the back wall, mostly of a glass of beer in various locations.
Feidlim explains that his father has passed, and that as tribute to his father — who loved Guinness Beer — he has filmed a pint of the beer in all of his dad's favorite places or, in some cases, held up for the camera by his dad's closest friends and family. Feidlim looks back at the video on the wall, and we all reset our own attention back to it. After a moment of us trying to find some entertainment value -- and failing -- Feidlim pipes up saying, "Yeah, it's pretty much crap, isn't it?"
Soon, we are introduced to a woman we are told is Feidlim's mother, Ann Cannon (yes, I later check the playbill and this is actually her), and a man introduced as Erich Keller, their mental health therapist (I'm not sure he was really a therapist, but he certainly had a calming bedside manner).  As we delve into the play—or therapy sessions—we begin to learn this family has had some challenges. The passing of the father/husband at too early an age left many issues for all surviving members of the family; and a third brother died just after birth, many years ago. These are pains that still have not healed, and, from what we can see, likely never will.
These interludes set the warm and sometimes very uneasy gait to this production that makes the audience feel like voyeurs at a series of family therapy sessions. This voyeurism, though, is mitigated by the fact we are generously included in the events. Everything is shared with the audience, and we are even asked to partake in some therapeutic exercises involving "anger balloons".
A heavy downer play? No, it isn't. Perhaps due part to Irish charm, humor, and great smiles, the play is surprisingly upbeat, often very positive in tone and message, and repeatedly funny even where you would least expect it -- at least through the first half or so.  It did get long for me, and my attention was not held as strongly through the second half, as some things began to feel repetitive.
In the end, the players (i.e., patients) did come to terms with their grief. They also came to terms with that range of emotions that will never heal, and began to learn what they can do with those feelings to allow life to move on anyway. It was a happy ending, with closure for the patients, and the audience.