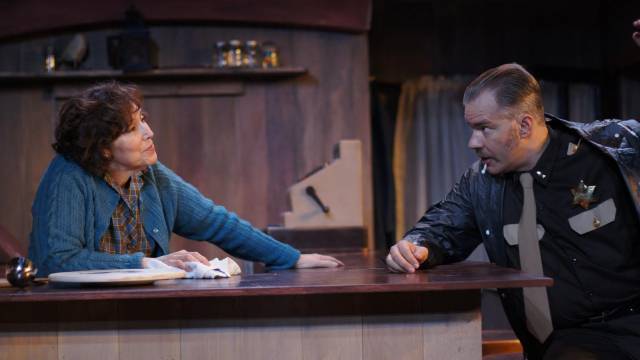 Sea of Souls, devised by the Ion Theater Company of San Diego, is a witty, fast-paced play about friendship, loyalty, and accepting the past. Written and directed by Glenn Paris and Claudio Raygoza, this authentic, drama-filled story is set in the late '60s, in a small off-the-beaten-track town in West Virginia.
The play opens with a widow, Casey (Catalina Maynard), a sharp-tongued, reserved, take-no-prisoners sort of woman, who has unexpected visitors in the middle of the night at her roadhouse. Sam (Rhianna Basore) has left New York City in search of her true parentage with little but a vague early childhood memory of a song she heard her biological mother sing. Casey, although initially denying she knows who Sam's mother was, can't help but be sympathetic and feels emotionally connected to Sam. Then enters Lila (Yolanda Franklin), Casey's partner at the roadhouse and best friend. Lila has found Joan (Abby Fields), a lost and disoriented young woman, who is showing signs of physical abuse. Lila convinces Casey to let the devoutly Christian Joan stay with them and soon all four women are all engaged in working at the roadhouse. There is tension and suspicion amongst them but there is also a certain bond that arises as they begin to look after each other.  Yet this harmony is broken when the truth about both Sam and Joan's past begins to unravel due to the interference of two men, Deputy Sheriff Roy (Jason Heil)  and Carl (Evan Kendig).
While the political and social tensions caused by the Vietnam War appear throughout the play, they aren't the focus of Sea of Souls; rather, the play concentrates on the the sororal relationships of the hardworking, dedicated women of the town and still relevant themes like violence against women and the individual and community impact of returned military service people. The characters are vivid and the performances were solid, particularly Catalina Maynard who gave the character of Casey a lot of bravado and elicited just the right amount of sympathy from the audience.