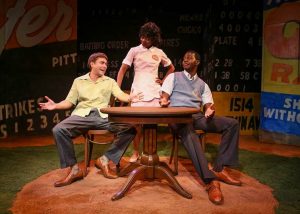 Fred Newman's "Stealin' Home" is a surrealistic portrayal of the story behind the hero Jackie Robinson, as told through intimate conversation and polymorphic perspective. It's a wonderful performance full of gusto, historical-political flare, flashbacks, and even the music of Hendrix. This story arises from Newman's realization of the overly romanticized, subjective hero's life, amidst despairing politics and raucous national uproar – creating a need for a different approach in telling the man's story.
The show's true star is Sojourner, a mystical catalyst to the play, as performed by Ava Jenkins. Jenkins' character reveals uncanny verisimilitude; undeniably charming and taking many forms, the role is perhaps best described as a guardian angel to Jackie's life. Daniel Hickman's portrayal of Mr. Jackie Robinson layers the boldness of the personality with a newfound transparency and patience, eventually revealing his wisdom and humility over time. Nick Webster succeeds in an earnest and loveable supporting role as Pee Wee, Jackie's soulful teammate and best friend.
With Jackie put under the light in this play's depiction, as a human being instead of as a hero, he is seen as a true character full of efforts, flaws, successes, and all. "Stealin' Home" is a show without any of the assumed pseudo-heroic romance – a story that doesn't break on tragic flaws but assesses character in the world. Hurry over to The Castillo Theatre to see this performance.
Performances of "Stealin' Home" continue through November 23rd.  Check out our full event listing here: https://stagebuddy.com/listingdetail.php?lid=15059