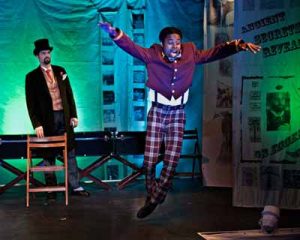 The Flying Carpet Theatre's new play, "The Medicine Showdown", is a bright sunrise of great country entertainment, bona fide public health advice, and marvelous, metafictive dramatics.  Playwrights Adam Koplan and Topher Payne have written exuberant monologues and clever dialogue for their actors, nearly all of whom play multiple roles – including tap dancers, country singers, doctors, mailmen, politicians, and magicians!
Set in the small town of Norwich, Georgia, the local doctor, Claudia Hill, urges the townspeople to take necessary precautions in protecting themselves against the spread of the fatal influenza. But the loving fans and comical members of a traveling Medicine Show, led by Dr. Hill's chief rival, Dr. Eggerton, protest her efforts, demanding the latter's yearly business, money, and "instant remedy" sales.
The play opens with country music.  No, scratch that: it begins with Doctor Claudia Hill passing out safety masks and newspapers to the audience as they enter. Then come the trusty three-part harmonies led by Tiny Two Bits (played by the lovable actor John Wright). Dr. Eggerton goes on to showcase his act, his bold voice rumbling the crowd with hilarious banter and vivacious alliteration. Incredible, out-of-this-world tap dancing interspersed as vaudeville acts within the medicine show are performed by Khalid Hill as Legs Benedict.
The actors charm the audience with a comforting nostalgia and classic joviality, making complex acts simple and their characters' tangible.  Timothy McCown Reynolds, as Chief TukTuk, provokes the audience to boisterous roars of laughter, holding the most persistently comedic role with austerity and seeming ease. Susan Louise O'Connor holds the spotlight as the honorably passionate, loyally devoted town physician, Claudia Hill.  As she fights earnestly for the town's safety from the spread of the Spanish Flu, Dr. Eggerton's old Medicine Show of Norwich merges with "The Medicine Showdown" of modern New York: Dr. Hill, wearing a safety mask, gives a speech to save us all before the climactic final scene of perfect past and present convergence.
Missing "The Medicine Showdown" could cause a whole lot of hullabaloo, so don't disappoint your lovely date. Go. It's a riot and you would be a fool to miss out on its merry hoorahs and good times. As Dr. Eggerton would likely shout: It's for the benefit of your health as well as your entertainment!
Performances of "The Medicine Showdown" continue through October 27th.  Check out our full event listing here: https://stagebuddy.com/listingdetail.php?lid=15020