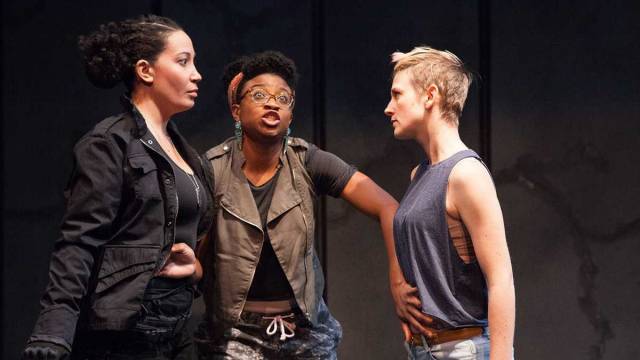 #therevolution, directed by Seth Rozin and presented by InterAct Theatre Company at their new home at The Drake, is bubbling with ideas.  Like all good satire, it is not so hard to imagine a world in which the events that initiate revolution in the play could take place in our own reality.  The world we live in, no different than the world of the play, is propelled by the cult of personality.  Within the play, one character's frustration with the inequalities of the world lead her to brutally kill a man on the street.  This event, recorded and uploaded to YouTube by a passerby, initiates an uprising by the masses wherein untold numbers of people are killed.  This woman, known only as The Revolution, is endearingly portrayed by Brett Ashley Robinson, who brings out the naiveté and childishness of a young woman who acquires power without the slightest idea how to wield it.  Her partner in crime --  quite literally at times -- is played by the equally endearing Mary Tuomanen.
The revolution, begun in individual passion and frustration, sees The Revolution as their leader and rally around the cause of equality, or perhaps just the feeling of having a purpose, something that is sorely lacking in the pre-revolution world.  Like all good power stories, #therevolution does not shy away from the messier forces that drive violent actions, namely lust.  The Revolution's (and the revolution's) motives for violence may have been pure at the start of the play but it doesn't take long for power to go to her head and when it does, heads roll.
Playwright Kristoffer Diaz does an admirable job of exploring the nuances of attaining and maintaining power in a new order.  The scenic elements drive this home, overtly, with visual references to the Third Reich and the rising sun of the Imperial Japanese Navy.  Many of the conversations between characters happen as they are broadcasting video to their followers about how the whole ruling thing is going.  Casual language in high stakes situations is at the heart of Diaz's writing style and his message about the way power is handled among the ruling oligarchy.  Not unlike the characters he develops, there are times when the play overreaches in scope and in the end we are left with many questions about the world that we have been tantalizingly introduced to.
#therevolution is a thought-provoking production that most certainly asks the audience to question the power structures at play in the modern world and proposes a tale of the chilling chaos we're in for if it is violence that brings about a new world order.
Performances of #therevolution continue through February 14. For more information and tickets visit: https://www.interacttheatre.org/therevolution/