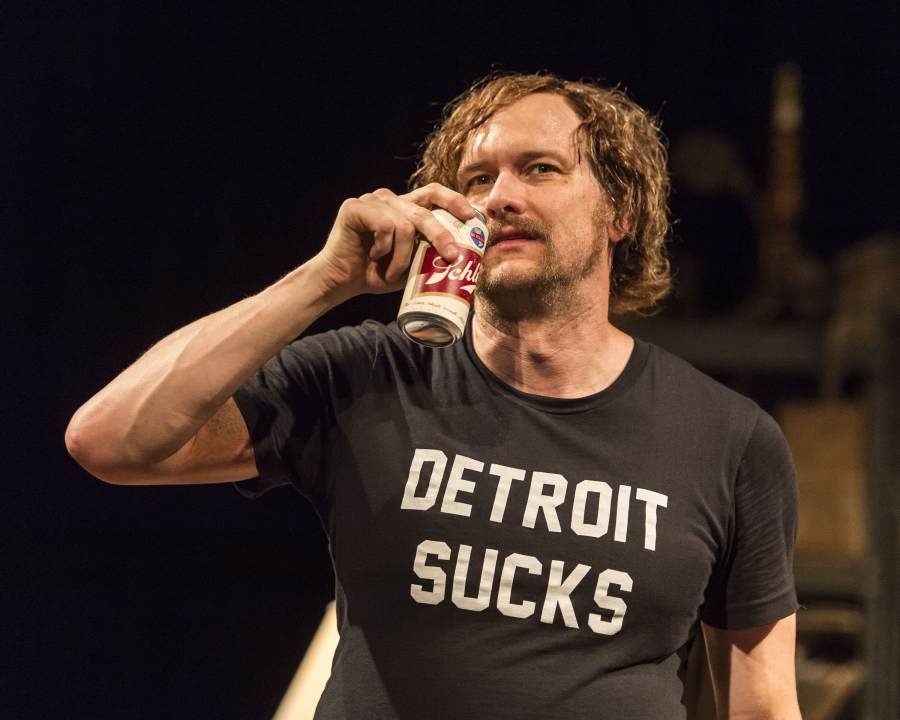 Lester Bangs, the iconic, diehard rock 'n roll music critic of the 1960s and '70s, is both the unwilling subject and the fast talking narrator of How to Be a Rock Critic, now playing at the Public Theater's Under the Radar Festival. Bangs, most famously portrayed by the late Phillip Seymour Hoffman in the film Almost Famous, is revivified by documentary theater makers Jessica Blank and Erik Jensen, the husband and wife team who brought us The Exonerated. In this one-man show, Bangs is played by the roguish Jensen, whose high octane performance perfectly captures Bangs' boundless obsession to teach people how to listen to Rock 'n Roll the way he did -- intensely, indignantly, and rapturously. Blank, the director, masterfully weaves Bangs' half-processed memories of past trauma and anxiety with the present day Bangs, one who dwells in a living room littered with empty cough syrup bottles and unsheathed records that he holds reverently and chucks unfeelingly to the floor in back-to-back breaths.
Jensen, channeling Bangs' fickle relationship with living, is addictively watchable. His need for something more than the pedestrian way of life is palpable and the audience leans in, convinced that Bangs can somehow save us all from an inconsequential life, just as Bangs believed that Rock and Roll can. Fast talking, strong willed, and poetic in his love or hate for the musicians he critiqued -- there is no middle ground in Rock and Roll -- Lester warns that the genre is nothing but myth; that critics are glorified advertisers for popular bands and truth is battered into submission by the popular but vapid Rolling Stone magazine.
This corruption of the purity of the music and his inability to fix the system torments Bangs. His obsession with and devotion to the music is absolute. Even as he grows more jaded with his musical idols he maintains unconditional faith in them. He cannot separate himself from his fury or his faith and it tears him apart. We, too, feel torn by the end of the play. Torn between the need to believe in something pure, something meaningful; to feel as deeply about something -- anything -- as Lester Bangs does about two chords of an Astral Weeks song, and our knowledge that no matter how much we wish he were, Lester Bangs is not our savior any more than Rock and Roll is.
Where do we put our faith? the play asks. What do we do with our need to be considerable in the world? The play provides no answers but if it were a score the bassline would be one of intense optimism, the verses a study of obsessive love, and the chorus an ode to pure human desire for connection, all of which leave the audience with a concert high to match any Rock and Roll show.