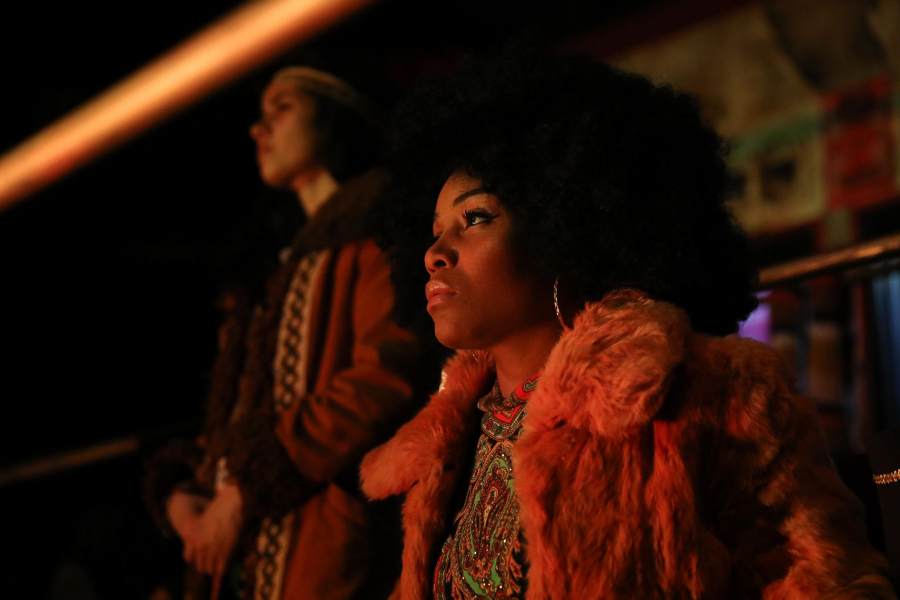 New Year's Eve, 1969. Jimi Hendrix and the Band of Gypsies, an electric psychedelic blues trio, play a legendary show at the Fillmore East in New York City. The Hendrix Project, an experimental performance much like Hendrix's own music, is an homage to the late great rock legend and that magical night when he ushered in a new decade for many young fans. It would also be Hendrix's last New Year's; he died of a drug overdose nine months later. Conceived and directed by Roger Guenveur Smith and presented by CalArts Center for New Performance, The Hendrix Project is playing at BRIC House as part of The Public Theater's Under the Radar Festival.
Fifteen performers reenact the orgiastic experience of being a young person at a live rock concert at the end of the 1960s. With no dialogue, they move in near constant slow-motion, as though they are stuck in molasses while also being stoned. It's a trippy juxtaposition: We, the audience, are watching another audience enjoying this experience as a live recording of the concert plays. The actors pantomime all the signs of being at a rock concert: clapping, cheering, dancing, smoking weed, making out with their fellow concert-goers. It almost makes you feel like you're also high and at the show with these people.
The Hendrix Project wouldn't be half as interesting if not for some great sound and video design by Marc Anthony Thompson. He uses footage and audio of the actual concert, including the epic 12-minute "Machine Gun," so we can hear some of what the original audience experienced, what the performers on stage are trying to portray. Although not exactly like being there in person, nor is it like watching a recording of the show, it's more like we are experiencing it through the lens of the performers. Suffice it to say, you should probably like the music of Jimi Hendrix if you want to enjoy this show.
The lighting design (Cameron Pieratt) is pure psychedelia; all purples and greens and blacklight. Scenic designer Levi Lack also takes a period approach to the set by covering it with posters declaring "War Is Over!" and "1969: The Year of the Panther." The actors, clad in some amazing hippie counterculture outfits (costume design by Maggie Clapis), drape themselves over three tiers of stadium-style bleachers, and occasionally meander behind the screens that are projecting the concert footage, so there is a lot going on despite the slowness of the movements.
While the effect of watching The Hendrix Project is kind of like being in a drug-induced haze, it ends with the sobering realization that this is one of Hendrix's final performance. And with that tragedy, the 1960s were truly over.