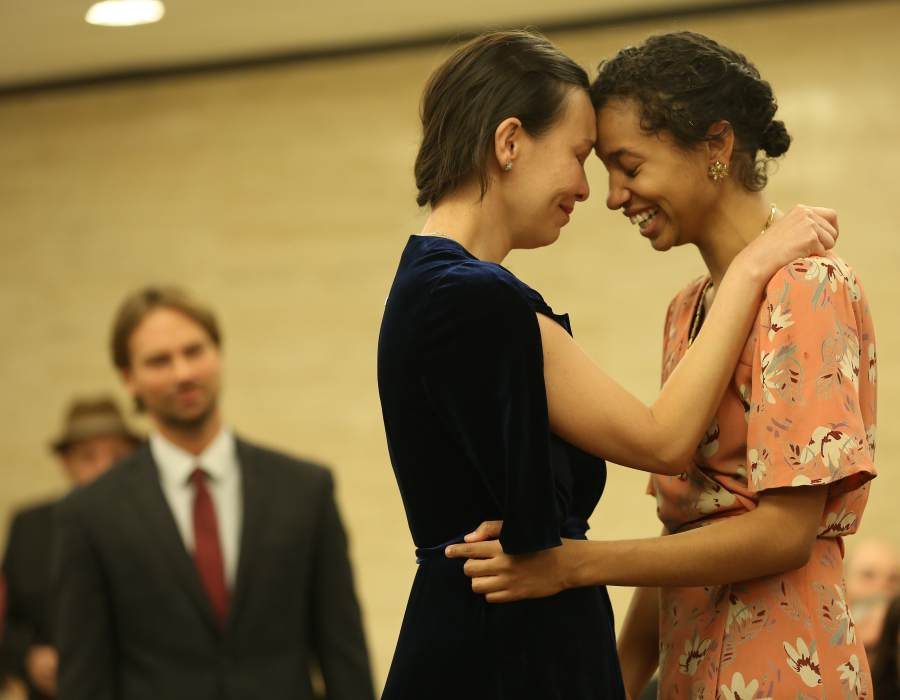 The city's best purveyor of free theater is back and sharing its abundant wealth with the masses. The Public Theater's Mobile Unit presents William Shakespeare's romance The Winter's Tale for a four-week run. Directed by Lee Sunday Evans, this bare-bones and youthful production has been touring for three weeks around all five boroughs performing in prisons, homeless shelters, community centers and libraries. The best part? Every performance at The Public Theater is completely free of charge via digital lottery TodayTix.
The story, like so much of Shakespeare, takes place in a faraway land, involves a foolish king driven to madness by jealousy, contains mistaken identities and forbidden love, and features a woman tragically bearing the brunt of her husband's afflictions. King Leontes (Justin Cunningham) of Sicilia believes his pregnant wife, Hermione (Stacey Yen), is having an affair with his old friend King Polixenes (Nicholas Hoge), visiting from Bohemia. Even after her sincerest protestations that she's innocent, a promise from the court's most trusted advisor Paulina (Patrena Murray) that she is faithful, and a verdict by the god Apollo declaring her innocence, he cannot believe it.
Instead, he locks her in prison, where she gives birth to their daughter, Perdita. After deliberating whether to kill the baby (she being the product of the illicit union between his wife and friend in his mind), he decides to send her away with his advisor, Antigonus (Christopher Ryan Grant), who leaves her in the woods near Bohemia. Back in Sicilia, only after his son, Mamillius (Chris Myers), and Hermione die mysteriously, thereby fulfilling Apollo's grim prophecy that Leontes will never have an heir, does Leontes finally believe he might have been wrong.
Having fled Sicilia with Leontes' advisor Camillo (Sathya Sridharan), who warns him of Leontes' plan to murder him, Polixenes returns to Bohemia. Nearby, an old shepherd (Grant) and his son (Nina Grollman) find baby Perdita in the woods after Antigonus is attacked by a bear. Sixteen years pass and now Perdita (Ayana Workman) and Polixenes' son Florizel (Myers) are in love. Only neither knows that she is really a princess so they hide their love from the King, who would surely disapprove, as the shepherds who found her have raised her as a peasant. What ensues is one of the most rushed, forced endings with most of the interesting action happening offstage, and a really bizarre final scene involving a statue coming to life.
The Winter's Tale is not Shakespeare's best by any stretch but the Mobile Unit does a fine job of making it fresh and fun. They incorporate a couple of well-crafted puppets (James Ortiz) and some really good original music (Heather Christian). The play feels like Shakespeare's trying to cram a whole bunch of his other plays into one; there's a little bit of The Tempest, some Othello, a smattering of Romeo & Juliet. It's a mashup of comedy, tragedy and fantasy.
However, the point of the Mobile Unit is to reach as much of underserved New York City as possible and make art and culture accessible to all. And with that lofty goal, they have succeeded. Let's hope this tradition of mobile theater continues for a long time to come.