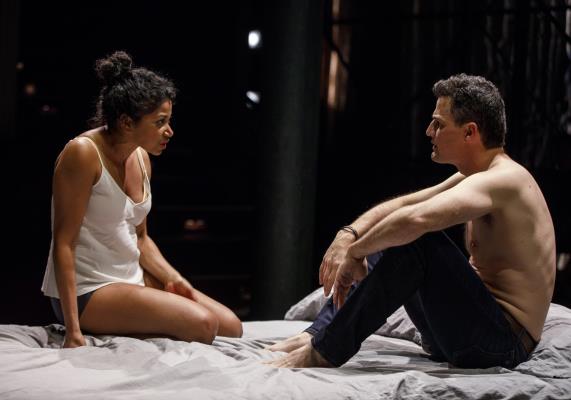 In Rinne Groff's new play, Fire in Dreamland, a Brooklyn woman (Rebecca Naomi Jones) meets a Dutch filmmaker, played by Enver Gjokaj, and together they attempt to make his dream project about Coney Island a reality. StageBuddy recently got a chance to talk to Enver about his return to the Public Theater, the colorful history of Coney Island, and that crazy Dutch accent.
You got your start at the Public Theater in 2005's As You Like It. How does it feel coming back 13 years later? Have you done any Shakespeare since?
It's wild to be back. And totally unexpected. Rinne somehow remembered me from an audition I did for Ruby Sunrise more than a decade ago. And we got a call asking if I'd be interested in auditioning. I mean it's a dream come true out of the clear blue sky.
...As for Shakespeare, no. Sadly, I have not had a chance to do that lately.
Your character in Fire in Dreamland, Jaap Hooft, is a filmmaker with a very singular artistic vision. What did you draw from to help you find this character and his passion?
Well first I just had to work like crazy for the accent. There's something about the Dutch that is very... Dutch. And a lot of that is in the cadences and speech patterns. It's hard to describe but there's something very forward and open about it. There's no American "coolness" where we throw stuff away and live in vocal fry.
But Jaap is not a singularly Dutch creation. I know tons of these people. Charming, nice people who have lost a distinction between self and the attainment of their dream. In my industry it's a common condition, one that I have from time to time. Some people live their entire lives in the future. He's one of these I think.
Were you familiar with any of the Coney Island history that the play centers on? Did you have to do any research to learn about the 1911 fire? What about Superstorm Sandy, which is used as a kind of parallel to the fire that destroyed Dreamland?
Rinne and Marissa brought in tons of awesome research on this so I was able to draft on their hard work. Jaap doesn't really care about Sandy so it wasn't a big part of his journey. He's actually thrilled that the storm cleared the beach for his movie so that shows you something about him right there.
What do you think Dreamland means to Jaap? Do you think there is something in him being Dutch that gives him a sort of outsider perspective?
Jaap is just one of these people who can dream up something of beauty and make it happen. (Until he gets in his own way) Dreamland is Jaap's dream. I mean we love these people in the abstract. Steve Jobs was apparently not a very nice person but we mythologize his singular vision and uncompromising nature. Jaap may not be at the level but he's cut from the same cloth. Some people become obsessed and we call them sick. But some pull it off and they're a genius. Explain that one...
You perform primarily alongside one other actor, Rebecca Naomi Jones, who plays your love interest. Interestingly, the emphasis is placed less on the love story than on the role you play in helping lift Kate back to a place of hope after the devastation wrought by Sandy. How did the two of you work together to portray that rollercoaster of a relationship?
Rebecca is so amazing. Yeah, we worked hard to make the relationship real. For a long time I felt that my take on Jaap was not working. I finally realized that not only is he not "bad" but he is a very cool person. Because otherwise she would be stupid to fall for him. I discovered that, for me at least, Jaap is a lovely human being who is completely unable to inhabit real life. Certain people are wonderful to be around until you need to lean on them. Jaap is the kind of guy who is utterly amazing to be around until you need to do adult stuff. Then, maybe not so much.
Once I realized that, we were able to play the true attraction that is on the page: two people who want to dream big together. Who doesn't love that?
Do you have any projects coming up after Fire in Dreamland that you'd like to talk about?
Nah, then I'd be living in the future like Jaap. A play at the Public is a sweet gig. I'm just gonna hang here for a minute...