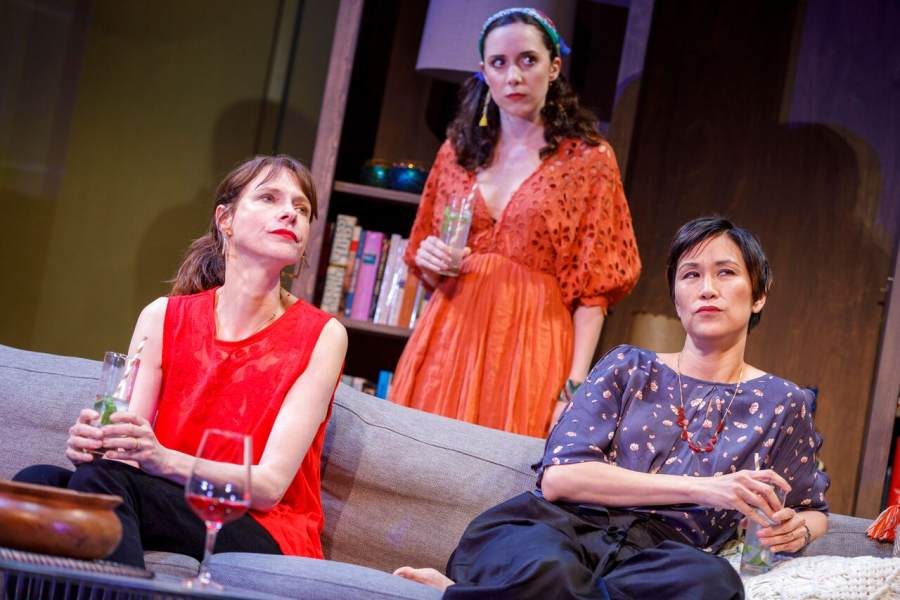 Sparks fly between friends and lovers as gay and trans rights are discussed in Log Cabin, Jordan Harrison's superb play about LGBTQ politics. Showing at Playwrights Horizons, directed by the great Pam MacKinnon, and just in time for Pride Month, this dark comedy delivers very contemporary commentary on same-sex marriage rights, social and economic privilege, and the horribly lagging rights of trans people.
Pam (Cindy Cheung) and Jules (Dolly Wells), a well-to-do lesbian couple living in a posh apartment (they have a rooftop garden!) in Brooklyn decide to have a child using a sperm donor. Their friends, similarly well-off gay couple, Chris (Phillip James Brannon) and Ezra (Jesse Tyler Ferguson), who had been struggling with the decision of having kids of their own (one wants them, the other is not so sure), now feel the pressure from this singular event which forces them into a sort of reckoning.
Enter Henry (Ian Harvie), Ezra's high school friend and prom date. Henry used to be Helen, now he's a trans man -- hormones, hipster beard and all. The two reunite at Pam and Jules' place where he brings his 26-year-old girlfriend, Myna (Talene Monahon), a somewhat flighty Millennial (the foursome joke about her bird-like name) who balks at the condescensions of her older partner's friends, particularly their closed-minded attitude toward her preference for trans men.
As the lives of these people become more entwined, it becomes evident that the two same-sex couples have a certain attitude toward trans people; they simply don't feel the need to fight the good fight alongside them, now that they've earned their own rights. It's a certain privilege that they've earned and they want to enjoy the fruits of their suffering. Henry schools his cisgender friends soon enough but the clear divide is then muddied by his involvement in Chris and Ezra's plans for a child.
The performances in Log Cabin are excellent and the characters' chemistry outstanding, for example, when Jules and Henry are drawn together in a particularly memorable scene set in her 2-year-old son's bedroom. That same son is played by Harvie in other scenes, as an infant and toddler speaking to his mothers like an adult, a nod to the couple's anxiety that their son is non-verbal.
Set over a period of five years, there's an impressive set (Allen Moyer) that revolves to show the passage of time and scenes. With floor to ceiling bookshelves and tasteful interior design to portray Jules and Pam's apartment, it really sets the tone for the class of people they and their friends are.
They embody both the rights earned by the LGBTQ community to enjoy certain social privileges like getting married and having children, at the same time as they have the historical memory of fighting for the privileges they've won. But just because you have won a fight and enjoy certain rights, does not mean you get to rest on your laurels. There's an argument to be made in Log Cabin about joining up with those who still do not get to enjoy certain rights, like using the bathroom they feel most comfortable using, and fighting the good fight alongside them.