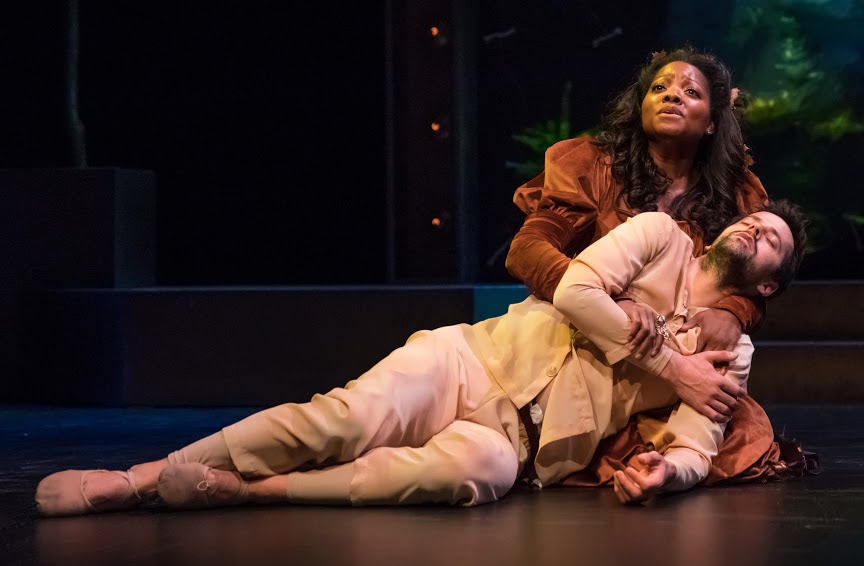 A portrait of the artist as a grieving mother comes to The Pershing Square Signature Center in Mary Shelley's Frankenstein. The show, written by Ensemble for the Romantic Century (ERC) Artistic Director Eve Wolf and directed by Donald T. Sanders, is a cross between a play, a ballet, and a concert. ERC specializes in the fusion of chamber music, stunning visuals and narrative; Mary Shelley's Frankenstein is no exception with its 18th-century style set pieces by Vanessa James, dynamic projections by David Bengali, and classical music by Liszt, Schubert and Bach masterfully performed by Steven Lin (piano), Kemp Jernigan (oboe), Parker Ramsay (organ/harpsichord), and Mezzo-Soprano Krysty Swann.
The narrative unfolds as Mary Shelley (Mia Vallet) writes her famous novel about the scientist Victor Frankenstein (Paul Wesley) and his creation, the wretched Monster (Robert Fairchild). Mary and her husband, Percy Shelley (Wesley), are also grieving the loss of their three children, who all died prematurely. The play tries to connect her feelings of failure as a mother to the motivations of the novel's characters. This theme continues throughout the play and eventually settles on a kind of acceptance, of both creator and created.
The actors alternately narrate excerpts from the novel and letters that Mary wrote about her grief and their move from England to Italy. They alternate as the Shelleys, including Mary's philosopher father William Godwin (Rocco Sisto), and characters from the novel as the story-telling spills over into the recitation of the novel. A trio of children are employed as the Monster's victims (Shiv Ajay, Peyton Lusk, and Avey Noble).
Accomplished classical dancer and choreographer Fairchild definitely stands out as the Monster, expertly embodying someone who is new to the concept of moving. His movements are jerky and clumsy, as the Monster attempts to find his footing in the world. He also encapsulates the pathos and desperation of someone who is misunderstood, who becomes a monster by virtue of looking like one. Here, the monstrous trappings are imagined, as Fairchild does not don the usual comic-book stylings typical of portrayals of Frankenstein's monster.
As set design is integral to ERC's work, Vanessa James' excellent set and costume pieces evoke classic 18th-century Europe. The backdrop of alternating projected set pieces portray the rainy English countryside, the Alps, and the faraway reaches of Europe where the Monster runs wild. Lighting designer Beverly Emmons anachronistic but ingenious use of neon tube lights to portray lightning and the creation of the Monster has a dramatic effect.
It's always satisfying to gain deeper insight into a beloved classic, and Mary Shelley's Frankenstein does just that, as it links the real life angst of an author to her most famous work. Mary Shelley saw herself as a wounded soul who attempted to find redemption within her characters. Instead, I think she found that the Monster lives inside us all. The real work is to accept that and move on.